Valley schools differ in plans for national school walkout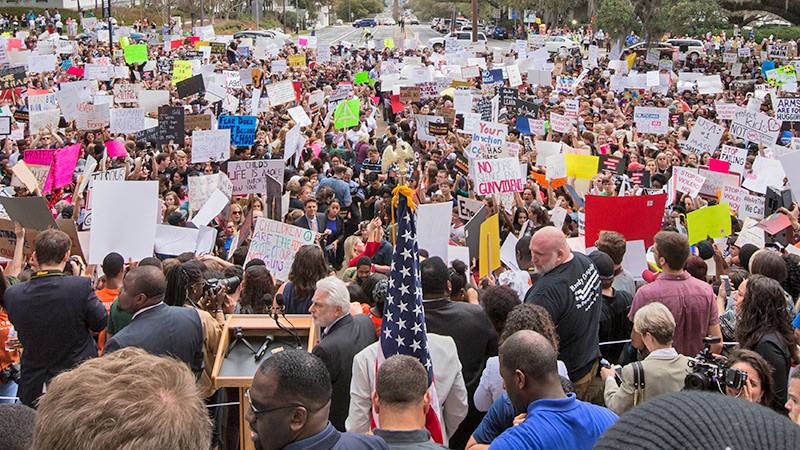 ---
Related Stories
Staff report
On March 14, students across the country will take part in a national walkout supporting changes in gun laws and honoring the 17 people killed Feb. 14 at Marjory Stoneman Douglas High School in Parkland, Fla.
Locally, schools differ in how they plan to approach the event. At least three area school districts will not condone students walking out, while others will support the walkout.
Poland and Boardman schools, citing safety concerns, plan to organize alternative events based on student input. Columbiana schools do not have anything planned.
The walkout will begin at 10 a.m. and is expected to last 17 minutes – one minute for each Florida shooting victim. Students at Marjory Stoneman Douglas High School have requested schools across the country participate on the one-month anniversary of the shooting.
The purpose is not only to support the students of Marjory Stoneman Douglas High School, but also to ask Congress and the Ohio General Assembly to pass legislation that bans assault weapons and requires background checks for anyone purchasing a gun.
Poland schools Superintendent David Janofa said he believes it is important for students to take part in the national conversation, but the district will not condone students walking out – and students will face disciplinary action if they do.
Instead, the district will organize some type of alternative activity. School administrators will discuss the issue at a meeting today, then get input from staff and students.
"I will say we will not be condoning a walk outside, with the state of affairs locally as well as nationally," Janofa said. "We don't think it's a wise decision or in the best interests of our students to be walking outside at a certain time on a certain day."
Janofa said the district does want to provide students with an opportunity to express their opinions.
"We want our students to take an active role in citizenship, and certainly I think this is one of those times where it's a real-life experience that is meeting our students head-on," he said. "We don't want it to be unsafe, but we also want to engage our students and take part in society. This is one of those real-life opportunities right now – we just need to make sure it's safe for everybody."
In Boardman, students, the superintendent, administrators, teachers, counselors and two school board members met Wednesday. They agreed students would come up with a plan for an in-school event, district spokeswoman Amy Radinovic said.
The issue also was addressed in a post on the high school's web page. The post states the school "does not wish to be pigeonholed into supporting any particular political statement" and "does not want to be viewed as espousing any particular singular solution to this issue of school safety."
The post also raises the issue of student safety.
"The idea of having students exit our buildings at a well-advertised day and time seems contrary to the mission of keeping our children safe," it states.
It also notes that "leaving the campus is truancy, an infraction that is clearly covered in our student code of conduct."
Instead, "Students and administration will work to create a statement of our message that is free from the grip of outside political parties."
Columbiana Exempted Village Schools will also not be partaking in the walkout.
"I hope [students] can rise above this political system and statement," said Don Mook, Columbiana superintendent.
Youngstown schools are among those who will be walking out that March 14 morning – with parent, teacher and other adult supervision.
"We have an obligation to keep our kids safe even during a peaceful demonstration," said Campbell Superintendent Matt Bowen.
He added that the district will be honoring the students' constitutional right to assemble.
"The administration and staff view the walkout on March 14 as a valuable learning opportunity where students can make a difference in our school, community and beyond," Bowen said. "Our young people should not be underestimated. Not only will we allow our students to participate, but we will encourage our staff to help organize a peaceful demonstration upon request."
Lordstown schools students took it upon themselves to alert school leaders of the potential walkout.
Terry Armstrong, Lordstown superintendent, said students wanted to do something to honor the lives lost in a respectful and safe manner.
"Most likely we will all walk out together because at Lordstown, we want our students to feel empowered," he said, "We are proud of our kids."
Students are also coming up with additional activities to support the cause, which includes writing letters to state legislatures about the importance of gun control and possibly hand-delivering them.
Other districts joining the walkout will include Jackson-Milton Schools students, if students choose to, and South Range Schools.
"We always find an opportunity in things like these to turn it positive and make it a good educational experience," said Dennis Dunham, South Range superintendent. "We must also always balance the safety of our students, which is why this will be supervised."
School leaders in Canfield, Struthers and Sebring said the matter of participation will be discussed.
"We want to talk about it with our student council," said Pete Pirone, Struthers superintendent. "We don't know where students stand on the matter."
Toni Viscounte, Sebring superintendent, said the issue hasn't generated much chatter in her district. "If I hear about it more, I'll have to do some research to best deal with the situation," she said.
More like this from vindy.com