Valley Christian's speed too much for Jackson-Milton
Valley Christian vs Jackson Milton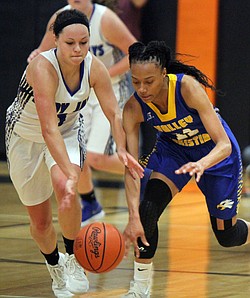 Gallery
Valley Christian vs Jackson Milton
Western Reserve vs Lisbon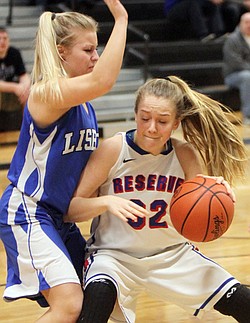 Gallery
Western Reserve vs Lisbon
V. Christian races to first title game
By Tom Williams
MINERAL RIDGE
Containing senior India Snyder's speed proved to be more than state-ranked Jackson-Milton could handle.
Snyder scored 14 points and just as importantly made 10 steals in the biggest win in Valley Christian's history that has the Eagles on the verge of making their longest road trip.
Freshman Kristin Gill scored 21 points as the Eagles (16-6) ousted the top-seeded Bluejays (21-3), 53-45, in Thursday's Division IV district semifinal at Mineral Ridge High School.
Valley Christian will play Lisbon (16-9) for the district crown at 4 p.m. Saturday. A berth at the regional at Massillon Perry High School is at stake. Lisbon upset third-seeded Western Reserve, 42-34. The Blue Devils advanced to the district by ousting second-seeded McDonald.
Valley Christian and Lisbon opened the season against each other.
"We were tied about five minutes into the fourth and to be honest with you, they flat-out ran us out of gas," Lisbon coach Jamie Entrikin said. "They ended up beating us by 16 or 17.
"They are very talented, very athletic, very quick," Entrikin said. "We'll have our hands full."
JM-VC
Jackson-Milton was ranked fourth in the final Associated Press state poll.
"We had a great year," Keney said.
The Blue Jays, the defending district champions, trailed by 10 in the first quarter and expended a lot of energy catching up. Late in the third quarter, Michaelina Terranova hit two free throws for a 33-33 tie.
A 6-0 run to start the fourth quarter put the Eagles ahead, 41-33.
"Sometimes when you play good teams, it's not your night," Blue Jays coach Pat Keney said. "We knew if we didn't take care of the ball and turn it over like we did tonight that we would be in trouble.
"And we turned that ball over way too much."
Snyder and Gill were major reasons why, disrupting the Blue Jays on the perimeter to generate layups.
"She's quick," Keney said of Snyder.
Terranova said: "We haven't seen anyone as fast as them — the closest was Columbiana."
Snyder said they are coached "that if we can get the steals, we've got to get them.
"It's such a great feeling," Snyder said of playing for a title. The closest the Eagles came was two years ago when they lost to McDonald in the district semifinal.
"I'm so excited," Snyder said.
The Blue Jays cut the lead to 47-45 when Valley Christian coach Bill Hoelzel was hit with a technical. Emily Williams made both free throws and the Blue Jays inbounded.
But Snyder stole the ball and converted a layup. Two free throws by Ne'Syiah Taylor and a steal and layup by Gill sealed the victory.
"Heck of a game, that's why we do this," Hoelzel said. "A lot of fun — we had never beaten them before."
Hoelzel called the win "fantastic for these girls, especially my two senior guards [Snyder and her twin Imane]. They have been a staple of this team for four years.
"We knew we could play with anybody [here], but we also know that we can lose to anybody," Hoelzel said.
India Snyder scored 10 points in the first quarter and Gill had a strong fourth quarter, scoring nine points and making two rebounds and three steals. Imane Snyder scored nine points.
"It's a great feeling because we worked hard for this," Gill said.
Terranova led the Blue Jays with 21 points. Williams scored 14 points and Abigail Spalding 10.
Three Blue Jays played their final varsity game — Terranova, Williams and Haley Lengyel.
"It's really fun playing girls [that talented]." Terranova said. "Playing against both of the twins, it was really fun guarding them, and them guarding me and the other seniors."
Terranova said she has not yet decided whether she will play basketball or run track in college. Last spring, she finished eighth in the state in the 300 hurdles.
Lisbon-WR
Lisbon trailed 30-28 at the start of the fourth quarter, but a 6-0 run had Western Reserve scrambling.
"They hurt us on the boards," Western Reserve coach Steve Miller said. "They were more physical, aggressive."
Izzy Perez led Lisbon with 14 points while Maddie Liberati contributed 10 rebounds and eight points.
Alexis Hughes, Western Reserve's lone senior, scored 10 and Alyssa Serensky nine.
More like this from vindy.com