Skilled-trades job fair appeals to Austintown students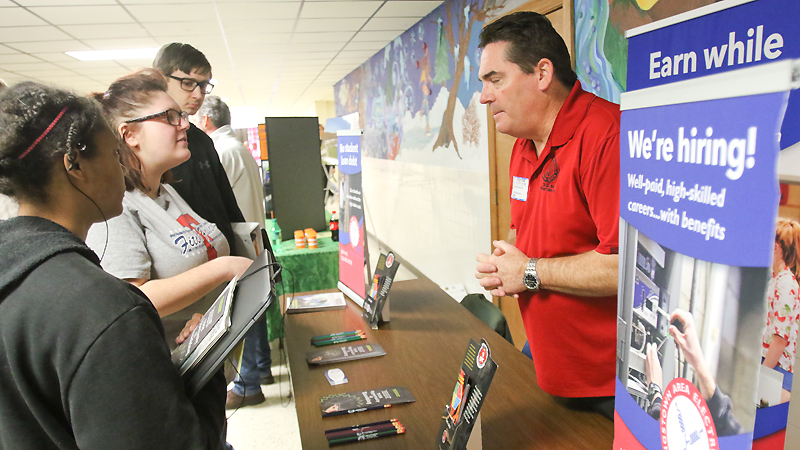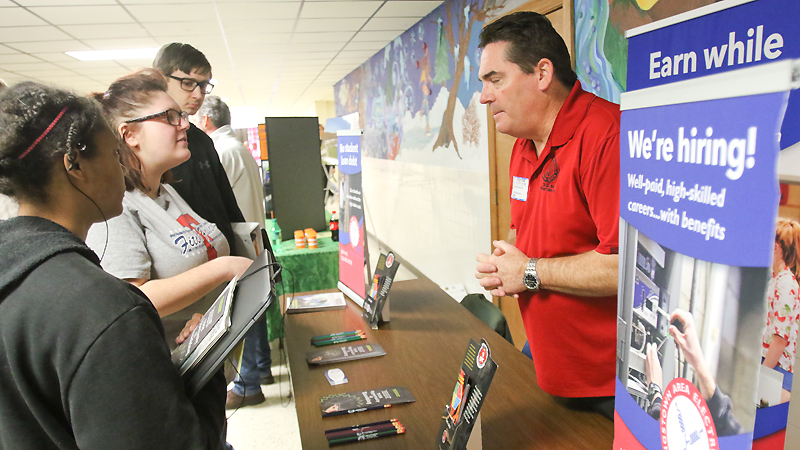 ---
By BILLY LUDT
bludt@vindy.com
AUSTINTOWN
There is a demand to fill positions in area skilled trades, according to the people who work them.
"We're having a hard time getting good people to come out," said Larry McQuaid, coordinator for Youngstown Sheet Metal.
To present trade career opportunities to students entering the work force, Austintown Fitch High School had a trade fair with representatives from area skilled trade businesses.
"I understand the need for skilled trades," counselor Marie Dockry said. "We have students that don't know what they want to do for their careers. This gives them the opportunity to meet new kinds of people."
Freshman through seniors were introduced to reps from 12 trades through an assembly, which was followed by a question-and-answer session. Then the students met with them to one-on-one find out more about what the work entails.
Dockry started organizing the trade fair every two years. Her father was an union electrician, and she said the topic of new trades coming to the community was often discussed over dinner.
With her family's history in mind, she wanted to show students some alternatives to college.
"It's one of those things­­­­ – if I'm able to go to college and work one of these trades, it would be beneficial," senior Thomas Ellsmour said. "I'm just weighing my options."
After meeting with carpenters and pipefitters, Ellsmour said he learned the work is a lot more involved than he had thought – such as, carpenters don't work solely in wood.
"I went to college, and it wasn't for me," said Bob Gerst with Operative Plasterers & Cement Masons. Gerst supported himself through college by working a trade, but realized he wasn't going to use his degree in education. "I got a job doing cement work, and I've never looked back."
If students are interested in a trade, he said, they should research the work to make sure it would be a good fit. For example, Gerst said he's afraid of heights, and working with cement, closer to the ground, was ideal.
Last summer, Gerst said he was short 10 to 15 people for jobs OPMC could have taken. Within three years, he said, a person could have a journeyman's wage while his peers were still finishing a four-year degree.
As computer-operated equipment becomes the norm in skilled trades, having a workforce versed in that technology is necessary, McQuaid said.
"There's a lot of potential there," he said. "Everything is computerized now. We need the younger generation; we need their technology."
More like this from vindy.com