Quakers, Raiders advance to D-III final
Columbiana vs Salem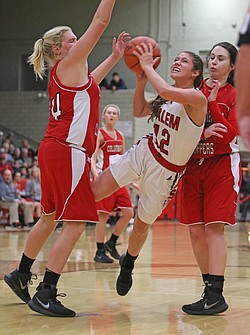 Gallery
By dan hiner
struthers
Salem girls basketball coach Vince Nittoli can say he's the only coach to beat Columbiana twice this season.
The Quakers beat the Clippers 39-33 at Struthers Fieldhouse to advance to the Division III district title game.
South Range beat Brookfield 56-43 in the first game at Struthers and will play Salem in the district final. The Raiders played the Quakers during the regular season, splitting the season series.
Nittoli and his team are excited to make it this far in the tournament. The last time the Quakers played in a district final was in 2010.
Salem led 8-7 at the start of the second quarter, but Columbiana (21-3) held the ball the entire period in an attempt to get the Quakers out of their zone defense.
"[Columbiana coach Ron Moschella] prepared his team, they played so hard," Nittoli said. "I give them nothing but respect."
After the scoreless second quarter, Salem freshman Kyla Jaminson scored seven of her 13 points in the second half. Jaminson scored five points in the fourth. She also finished with seven rebounds and two steals.
"I'll tell you what, that girl is an animal," Nittoli said. "She's the first one in the gym and the last one to leave. She's constantly working, she's such a sponge — she soaks in basketball. She lives and breathes basketball. I have to kick her out of the gym sometimes because she's always there. And she lives for moments like this."
Moschella said he will return as the Clippers' head coach if the Columbiana Board of Education approves his rehiring.
"Age has nothing to do with anything," Moschella said. "Once America starts finding that out — that there's a lot of wisdom in us older people, not me but older people — so the next question you should ask the Salem coach is, 'Do you plan on retiring?' "
Moschella went on to say he's "not going anywhere unless I want to" and that he "carries all the cards."
Moschella said his kids played "great" but gave up too many rebounds. Salem (17-7) outrebounded the Clippers 23-14.
"They played as hard as they could, they were totally undersized but they played tremendous and I'm proud of my kids," Moschella said.
Columbiana's Kayla Muslovski scored a game-high 17 points.
In the first game of the night, South Range freshman Dani Vuletich played the best game of her young career.
Vuletich scored a career-high 31 points, tied her school record with 18 rebounds and blocked four shots.
"Right off the jump, I knew I had to calm my nerves, I knew I could do this and my teammates had my back," Vuletich said. "We just played both ends of the floor really well tonight and that's what teams should do. That's why we won tonight."
Vuletich already owned the school record after a 18-rebound performance against Boardman this season.
"All year long we've pushed her, given her more of a load, and this week, we told the girls, offensively, we got to get her touches every time down the floor," South Range head coach Tony Matisi said. "We knew we'd be able to get her the ball in the low block and we knew we'd be getting some touches for her. That's all we did the last two days."
The Raiders went on a 9-0 run with just under seven minutes left in the third to pull away. South Range led 46-26 heading into the fourth quarter.
Bailey Drapola led the Warriors (18-6) with 17 points and five rebounds.
South Range (20-4) was without Izzy Lamparty after she suffered a concussion in the Raiders' 48-44 win over Canton Central Catholic last Saturday.
Vuletich took over some of Lamparty's responsibilities.
"It's a big spot to fill," Matisi said. "She's been starting for us all year, real athletic, our second-leading scorer, she takes a big load off our guards handling the ball. [We] hope to have her back by Saturday."
The Raiders also had another scare after Maddie Durkin appeared to hit her head while diving for a loose ball in the fourth quarter. Durkin returned to the game and Matisi said she was getting over an ear infection — part of the reason she left the game.
South Range and Salem each picked up a road win during their meetings this season.
"We played Salem twice so it's gonna be a rematch for us," Vuletich said. "We're 1-1 against Salem, so it's gonna be like the rematch of the century here."
More like this from vindy.com