Girard Intermediate School dedicates a bench to officer Justin Leo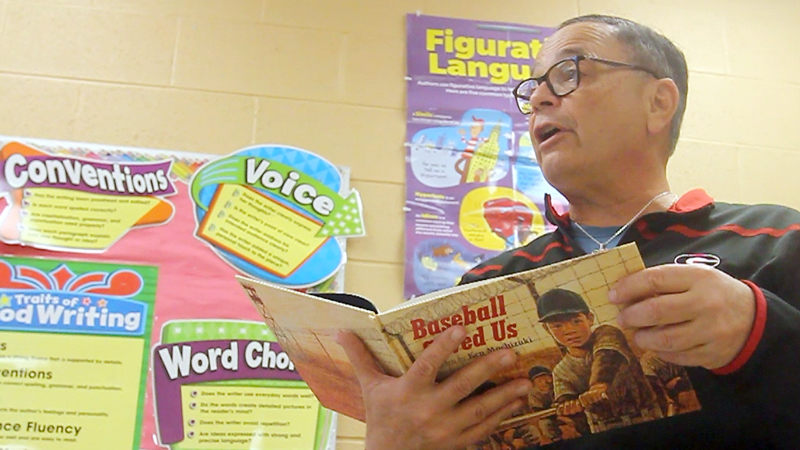 ---
Leo Reads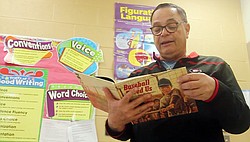 Video
David Leo, father of slain Girard PD officer Justin Leo and a retired school principal, read to students at his former school as part of Read Across America Day.
By SAMANTHA PHILLIPS
sphillips@vindy.com
GIRARD
David and Pat Leo come to Read Across America Day at Girard Intermediate School every year to read to students. This is the first year their son Justin Leo, the Girard policeman killed in the line of duty, couldn't be there with them.
When the couple came to the school Thursday, there was a new bench near the entrance that had Justin's name inscribed on it with the message, "A kind heart and a friend to all."
David Leo was the school principal for eight years and Pat Leo was a reading teacher at the school before they retired, and they always volunteer for the event.
Justin came in his police uniform to read for five years, and sometimes volunteered to read before he joined the police force.
Justin was shot and killed while responding to a domestic call on Indiana Avenue on Oct. 21, 2017.
"This bench is an honor," David said tearfully. "This doesn't get easier. The community loves him. And we miss him."
The bench was purchased through a student council fundraiser. The students wanted to raise money to buy shirts for a field day, but also wanted to give something back to the school, said Principal Gregory Bonamase.
"It feels good to help in our community," said Kylie Carpenter, a sixth-grade student council member.
The fourth- through sixth-grade students participated in a "Penny Wars" fundraiser, competing to see who could bring the most spare change, with the prize of an ice cream party for the winning class. The classes raised $2,000 total.
"We wanted to do something in remembrance of officer Justin Leo. His father was the principal here and Justin lived and grew up (across the street). The bench faces his childhood home," Bonamase said. Justin's parents still live at the home.
Read Across America Day celebrates the birth of Dr. Seuss, and David said the school has had guests come to the school for about 17 years.
"It's a chance to get community leaders here to read a book to the kids, let them know how reading impacts their jobs. It was always a fun day around here," he said.
David brought a book called "Baseball Saved Us," a book Justin loved as a child. Justin would bring the book to read for the intermediate school students, and each student would get a copy.
"Justin was always a reader," he said.
Cody Carpenter, Kylie's twin brother and also a sixth-grader, said Justin came to their class last year to read.
"He was very friendly and always had a smile on his face," added Molly Durkin, a sixth-grade student council member.
Durkin said her father is an umpire, and remembers Justin gave her father baseball equipment one day. Justin umpired for the school before becoming an officer, and would stop out to watch the games.
David and Pat Leo, Mayor James Melfi and officer Joe Malvasia read books to students Thursday.
More like this from vindy.com