Springfield wrestling duo draft off an established South Range program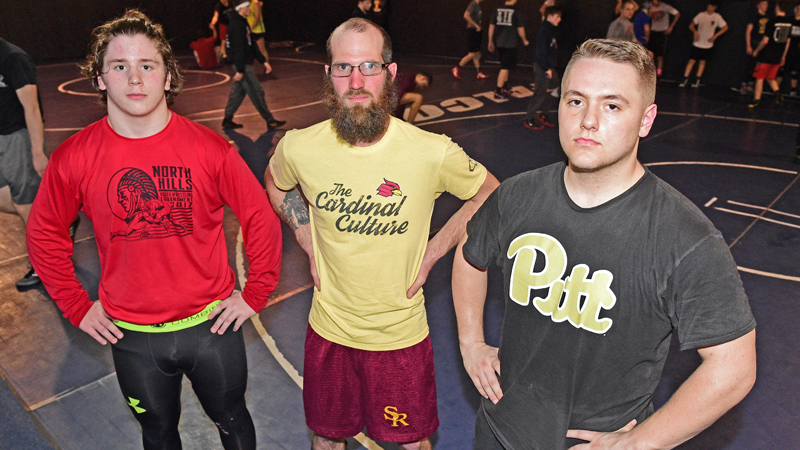 ---
By Brian Dzenis
AUSTINTOWN
Helping a rival school become competitive at a sport seems like insanity, but South Range is doing exactly that.
For two years, the Raiders have let their former Inter Tri-County League rival, Springfield, have its wrestlers train and compete with them.
While opposing linemen Anthony Czap (195) and Ryan Thompson (220) have had their battles on the football field, their current arrangement is viewed as a win-win.
"We have a small team, so I actually think it's better having more kids in there," said Czap, a Raiders wrestler. "You have different kids to practice with. You get better looks and I think it helps us as a team."
The two schools are sending a combined five grapplers to Garfield Heights this weekend for the Division III district tournament. Thompson and freshman Brady Brungard (285) join the Raiders' Kyle Keenan (113), Czap and Devon Dillon (152).
Springfield is one of three wrestling teams in the Mahoning Valley that are not school-sanctioned sports teams and operate as a club — like Poland and Western Reserve. The Tigers don't quite have the numbers or resources to operate on its own like the Bulldogs, so their wrestlers attach themselves to established teams.
For Thompson, South Range is the third team the Springfield senior has tagged along with in his five years of wrestling. Boardman looked after him in eighth grade before he spent his freshman year with Canfield. He was forced to take his sophomore year off because no school was willing to help the Tigers program before the Raiders did in his junior season.
"We've been grateful to South Range's program for letting us wrestle with them. It's not every day that you get to do this with other teams," Thompson said. "Every time I get a match, it's a positive."
To get a match, South Range coach Levi Hively calls ahead to the host of a tournament or dual match and asks if they will allow the Springfield kids to compete. Hively said most places and teams say yes, but for some events, like the Eastern Ohio Wrestling League tournament, the Tigers get turned away. At an established wrestling school like Austintown Fitch, wrestlers will see between 40 and 50 bouts going into districts. Thompson is 20-3 this season.
For the purposes of district play, Hively is considered to be Springfield's head coach. This year, none of the Tigers and Raiders are competing in the same weight class, but if they did, Hively already knows what to do.
"Last year, we had two kids who were the same weight class and we just let them go," Hively said.
There's some serious talent with this group. Keenan (113) is a returning state qualifier and Czap was only a match short of going to Columbus last year. Should one of them get on the podium in Columbus, he would be the school's first placer.
"I feel a little bit more of a sense of pressure," Keenan said. "I feel like you have to do a little bit better or at least as good as you did last year. You just try to improve on last season."
Thompson is considered to be the No. 14 wrestler in the state for his division and weight class. He was given no senior day and wears a generic singlet when he competes, but all he ever needed in his wrestling career was the chance to compete.
"I think the situation that I'm in — just having a couple kids on the team and not being known — I like that feeling," Thompson said. "Everyone underrates you and it's nice to be the underdog."
More like this from vindy.com