DoubleTree by Hilton opening delayed until May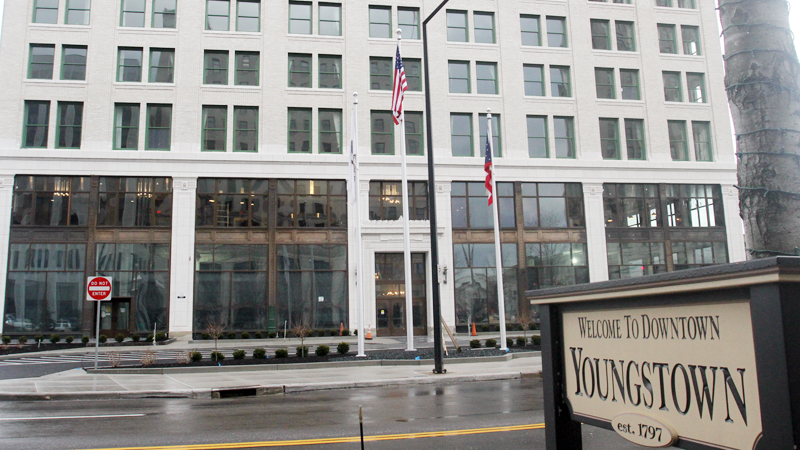 ---
DoubleTree by Hilton
By Kalea Hall
YOUNGSTOWN
The wait in finding a main restaurant for the downtown hotel has delayed the opening of the DoubleTree by Hilton hotel until May.
The restaurant took extra time, NYO Property Group developer Dominic Marchionda said, because "it was about getting the right person."
"We wanted the right type of full-service menu and the right type of chef," he said. "It took a lot more time than we had hoped."
DoubleTree by Hilton was slated to open at the end of March.
"Hilton has a requirement. For the hotel to be open, the restaurant has to be open," Marchionda said.
A negotiation for the restaurant is underway.
The hotel actually will feature two restaurants. YOSTERIA, owned by Alex Zordich, a Youngstown native, is already on board and will serve hand-crafted wine, bread and regional Italian food.
Branch Street Coffee Roasters of Boardman will be the hotel's coffee shop.
The hotel has a small conference space on the second floor ample for a meeting of up to 60 people. The 12th floor is a ballroom/meeting space that can be divided into smaller spaces with total accommodation of up to 180.
"It's going to have a tremendous impact on the city," Marchionda said.
The price tag for the lengthy hotel project is more than $30 million. Plans for the hotel first were unveiled by NYO Property Group of Youngstown and Pan Brothers Associates Inc. of New York in November 2014 with an opening date of June 2016.
Marchionda said the 124-room hotel is in the cleaning and furniture installation phase.
"We have a significant amount of rooms booked already for events and weddings," he said. "The proof is in the pudding. I think what we are seeing initially here is a positive response."
Marchionda is still a part of the management team on the hotel project, but he voluntarily resigned as manager of the company connected to the hotel project in November after he was indicted by a Mahoning County grand jury on 102 criminal counts, including theft, tampering with records and laundering. The court records documented alleged abuse of state, federal and city funds Marchionda received for the Flats at Wick, Erie Terminal Place and Wick Tower projects, but do not mention the hotel project.
George Pantelidis of Pan Brothers Associates Inc., a New York City-based real-estate services firm that is partnered with Marchionda's NYO Property Group to develop the hotel, is now manager of Youngstown Stambaugh Holdings.
More like this from vindy.com