O'Neill resumes bodybuilding chase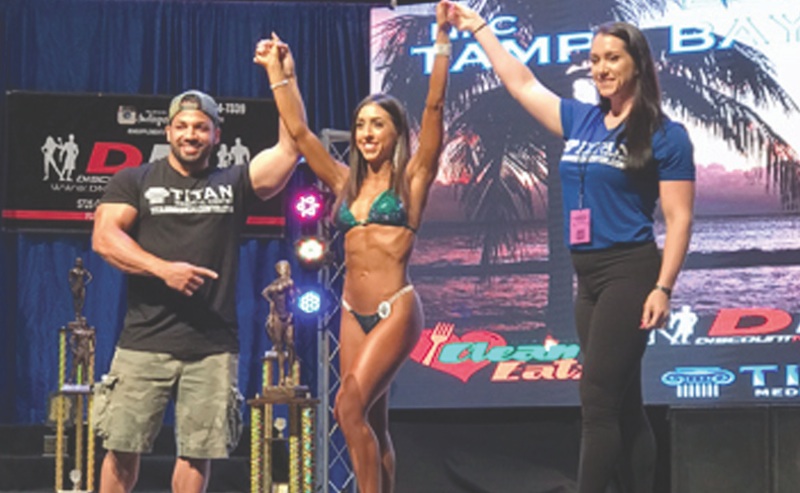 ---
By Greg Gulas
sports@vindy.com
A five-year gap between her first and second bodybuilding contests still yielded Girard native Katie O'Neill four titles at the recent National Physique Committee-Tampa Bay Classic.
She's hoping that a similar showing tonight in the Organization of Competitive Body Builders Dynamic Fitness Classic in Jacksonville, Fla., will yield her a pro card.
A 2006 graduate of Girard High School, O'Neill competes in the bikini division. During her first competition in Cleveland in 2013, O'Neill took top honors in women's novice bikini, Class A.
There are four divisions — A, B, C and D — according to height, with A being the shortest).
About her first competition, she admits she didn't do as well as she had hoped.
But on June 2, she competed in the novice (beginners) and open (advanced) divisions where she took first place in women's novice bikini, Class A.
She also took overall for novice division and then wrested first-place in open bikini Class A.
O'Neill also captured the overall title for open bikini out of all four divisions and was the bikini overall champion for the show.
It took seven months of preparation and hard work in order to get ready for the competition.
"After a five-year break, I was pleased ... with my second-ever competition," O'Neill said. "I started to prepare back in November, but have had just a little over three months in order to prepare for [tonight]."
An online health coach and personal trainer who also instructs at Quadrum Fitness Center in St. Petersburg, Fla., O'Neill is a spinning instructor who credits her coach, Christopher Barakat, with helping to get her back into competitive form.
"Christopher has been an amazing coach, someone who is very caring about his clients," O'Neill said. "I have nothing but great things to say about him. The help and assistance that he provided really helped me get me ready."
Her show earlier this month at Gaither High School drew more than 200 total contestants, of which 50 participated in the bikini division.
The Dynamic Fitness Classic is different from the NPC competition in that it is a drug-tested event.
"You are required to take a polygraph, and if you win, provide a urine sample to test for performance enhancing drugs," O'Neill said. "I'm very pleased with my progress and definitely more excited now than I was five years ago.
"The goal this weekend is to earn my pro card so that I have an opportunity to grow as an individual," she said. "Once you get to the pro level, top placings will award money but the money is not my drive and end goal.
"My goal is to inspire as many people as I can in order to incorporate health and fitness into their lives and know that anything is possible with hard work."
O'Neill starts most of her days eating five egg whites, adds spinach and will have 30-40 grams of carbohydrates coming from cream of rice or oats and fruit.
"I just concentrated on eating right and my conditioning in order to have a lean physique going into the competition," she said. "I added more cardio to my workout, going 40 strong minutes of continuous steady state, not sprinting.
"I also did the bike and treadmill in order elevate my heart rate.."
O'Neill is a 2009 graduate of Kent State University where she earned her BS degree in fashion merchandising and marketing. You can follow O'Neill's journey on Instagram
@katielynnoneill. For coaching, she can be reached on her website at http://www.katielynnfitness.com.
More like this from vindy.com