Akiva teacher leaves legacy of love for books, reading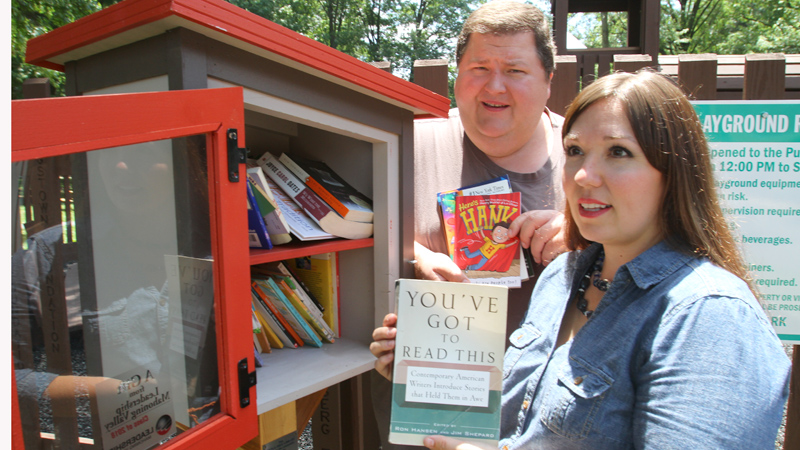 ---
By AMANDA TONOLI
atonoli@vindy.com
YOUNGSTOWN
Akiva Academy at the Jewish Community Center continues former teacher Christina While's legacy to instill a love of books and reading in its students.
While died unexpectedly in October 2017 – a time when she was busy collecting books to bring to less-fortunate children in rural areas in the South.
"There aren't a lot of books and teacher materials [in the] South, so Tina built up this collection to bring to them," said Kathy Mioni, academy principal. "She went to any and every library book sale to get books for kids – for her kids she always said."
Christina's husband, Brian While, shook his head remembering the bickering he and his wife would have about where to put the large numbers of books Christina would collect.
"Every time we'd go out she'd find something," he laughed. "At one point we had a whole van full of books."
Shortly after Christina's death, Brian reached out to Akiva in an attempt to continue his wife's tradition of giving back in the form of literature.
"He said, 'We have some teacher stuff,' which we shared with all of our teachers and it just unfolded from there," said Amanda Hugli, Akiva first-grade teacher and school reading coordinator.
Mioni said Akiva took Brian up on his offer without knowing the sheer volume of books his wife had collected.
"We wanted to give the books to kids, but then we thought we can do better than that," Mioni remembered.
Rather than just give everything away, the books were donated to local pop-up libraries.
"It was sacrificial giving to the kids," Mioni said.
"It's just nice to see her legacy continue," Hugli agreed. "She leaves behind a sense of generosity."
And through the books, Christina gets to continue teaching.
"Reading is just so important," Brian said. "Kids want to play games and do other things, but they should all learn to read and just be able to read. [Christina] always wanted to be a teacher ever since she was the same age as these kids, and she's still doing it."
More like this from vindy.com