Some straight talk: TST founder honored during dinner, program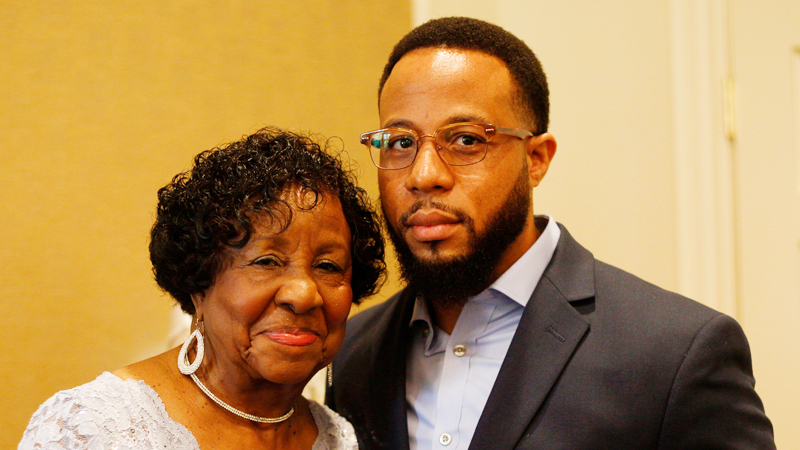 ---
By Sean Barron
HOWLAND
If you praise Mary L. Duke for the decades of work she's done to encourage young people to make positive choices, be prepared for her to deflect most of the accolades off herself and onto others.
"I might be the face, but many people I leaned on, and I rode their shoulders to be where we are today," she said, referring to the longtime success of Teen Straight Talk, a Vienna-based organization Duke and her late husband, Roland Duke, started.
For those and other efforts, Duke was honored during a dinner and program Thursday evening at Avalon Inn and Resort on East Market Street to celebrate TST's 30th anniversary.
Acting as mistress of ceremonies was her daughter, Crystal Duke.
The Dukes formed the faith-based, nonprofit organization in 1989 to address what they felt were the problems of teenage pregnancy and sexually transmitted diseases. TST's primary aim is to further educate children, teens and adults on the importance of abstinence as a lifestyle choice.
Before starting TST, Mary Duke had volunteered in the early 1980s with the Rescue Mission of the Mahoning Valley and New Life Home, a facility to help unwed teenage mothers.
Duke said she initially expected TST to last for about a year, in part because the message of abstinence was unpopular among many. Nevertheless, a strong faith in God has been pivotal in allowing the organization to endure and continue to grow, she explained.
Echoing that assessment was longtime family friend Vilma Allen of Spartanburg, S.C., who began a sister organization in 2001 in that city after having seen Duke provide ministry to others and discuss what she saw as the value of abstinence.
Despite some pushback, Duke continued to spread her message, Allen remembered. As a result, Allen concluded the Spartanburg area needed such a program, so she received training and was influenced by Duke's example, she continued.
"She was as unwavering as she is today," Allen told the audience of about 300. "I am grateful for the example Mary has given us."
The concept of abstinence often was unpopular not only in schools, but among some clergy members, noted the Rev. Todd Johnson, pastor of Second Baptist Church in Warren. Against that backdrop, it took extra courage for Duke to persevere in getting her message across as part of God's word, he explained.
TST also has made its presence felt with a group of core pastors, whose goals include hosting free community forums, said the Rev. Mr. Johnson, who fondly recalled having been in the organization as a child.
Fighting back tears at times was Dr. Tonia Farmer, TST's past president, who said Duke had a major influence on how she's raising her three daughters, 7, 9 and 11. Duke remains a beacon of God's love and example, she added.
Dodie Sausman, who's been with TST since its inception and serves as a part-time secretary, shared a few humorous stories about her long relationship with Duke, yet expressed a bit of modesty about her own role with the organization.
"I'm there to help her any way I can," Sausman said.
Among the others who spoke about Duke's and TST's impact on them were her sons, Drs. David and Doran Duke.
"This team of people over the years has given 100 percent dedication to this cause," said Doran Duke, who also discussed a few mission trips he participated in, including one to Africa.
More like this from vindy.com