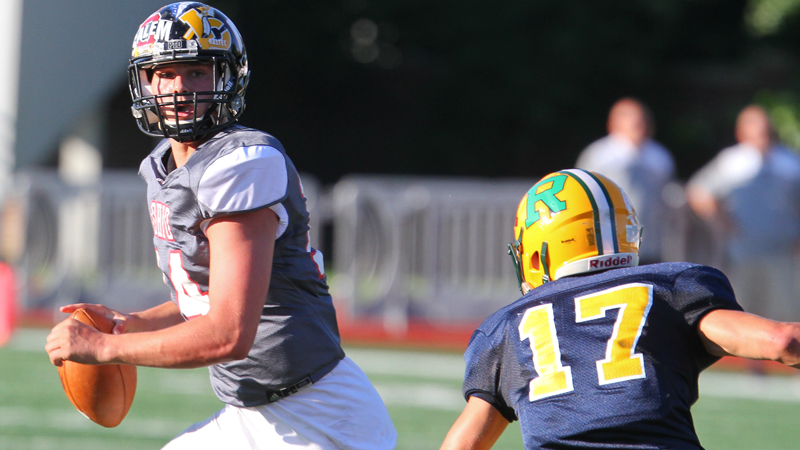 ---
By BRIAN DZENIS
bdzenis@vindy.com
SALEM
The Mahoning Valley's most successful players in 2017 led the charge for the Buckeye state.
South Range's Mathias Combs and Peyton Remish turned in MVP performances as Ohio took the 39th Penn-Ohio Stateline Classic, 22-20, on Thursday at Reilly Stadium. Ohio has won the Classic for three straight years. It was a fitting end to a banner year at South Range.
"Words can't really describe it. It's just been amazing with what's happened this past year," Combs said. "We made the [state] final four in football. Our basketball team had another great year and baseball wins a state championship out of nowhere.
"They were below .500 and what was awesome about that was I ran [state track] and then went over to that game to cheer on my buddies."
Combs proved to be the favorite target for both of Ohio's quarterbacks, West Branch's T.J. Deshields and Salem's Mitch Davidson, hauling in seven passes for 125 yards and two touchdowns.
"They seemed like they liked to throw to me," Combs said. "I don't mind it, I like it."
It was Combs' second stellar performance at Reilly Stadium in roughly a month. It was also the site of an unlikely bid for the track and field state tournament in the 100. He didn't win a single race before winning a district title.
"I don't know [how it happened]. It was the end of the year and just started running awesome times and I'm just like 'what is going on?'" Combs said. "We were here and I won districts and just kept on advancing."
Remish is normally a two-way player for the Raiders at linebacker and running back, but didn't receive a carry until the fourth quarter. He still found a way to make his presence felt.
With Ohio holding a 20-7 lead in the final three minutes of the third quarter, Cornell's Keshawn Sheppard bobbled an Ohio punt. He recovered his muffed ball, only to get trucked by Remish at the 1 yard line. Remish scored what eventually became the winning points by tackling Moon Area's Cole Konieczka in the endzone for a safety.
"On that safety, I was reading my keys and I saw the hole open up," Remish said. "I thought it was a run, but they faked it, so I hit the quarterback."
An odd quirk in the rulebook sparked a Pennsylvania rally.
Normally, the team that gets tackled in the endzone is supposed to punt the ball to the team that scored, but at the Stateline Classic, that rule goes away when the would-be kicking team is down by 14 points.
"I was a little confused. I though we always got the ball back," Remish said. "First [the officials] didn't give us the points and then I learned about some kind of rule change."
Seneca Valley's Jacob Bunofsky returned the ensuing kickoff 82 yards for a touchdown. Konieczka hit Dozhay Crumb for a 10-yard touchdown pass to bring Pennsylvania within two points with 10:33 to go.
Pennsylvania got the ball with 1:13 left, but Columbiana's Zach Phillips intercepted Konieczka to seal the win.
OHIO 22, PENNSYLVANIA 20
Ohio 10 10 2 0 — 22
Pennsylvania 0 7 6 7 — 20
First Quarter
OHIO — Mathias Combs 34 pass from T.J. DeShields (Jared Bryarly kick), 6:48.
OHIO — Bryarly 29 field goal, 2:06.
Second Quarter
OHIO — Bryarly 34 field goal, 7:34.
PENNSYLVANIA — Keshawn Sheppard 34 pass from Cole Konieczka (Carson Gilarno kick), 4:11.
OHIO — Combs 62 pass from Mitch Davidson (Bryarly kick), 3:54.
Third Quarter
OHIO — Peyton Remish tackled Konieczka in the endzone, 2:29.
PENNSYLVANIA — Jacob Bunofsky 82 kick return (kick failed), 2:14
Fourth Quarter
PENNSYLVANIA ­— Dozhay Crumb 10 pass from Konieczka (Gilarno kick), 10:33.
Ohio Penn
First downs 13 11
Rushes-yards 38-115 28-56
Comp-Att.-Int 16-25-3 14-33-3
Fumbles-lost 3-1 1-0
Penalties-yards 4-35 3-25
Individual leaders
Rushing — Ohio: Michael Clendenning 15-52; Pennsylvania: Caleb Collins 10-30.
Passing — Ohio: Davidson 10-17-1-99, DeShields 6-8-2-69; Pennsylvania: Konieczka 14-32-2-177.
Receiving — Ohio: Combs 7-125; Pennsylvania: Bunofsky 7-97.
More like this from vindy.com