Patrons paint planters at library program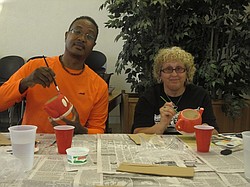 Photo
Neighbors | Zack Shively.The Austintown library hosted a "Paint a Planter" event where attendees of the event received free planters and painted them. The library had a number of planters to choose from, including ones shaped as teapots and boots. Pictured, Kevin and Becky Christopher painted their planters in a Mickey and Minnie Mouse style.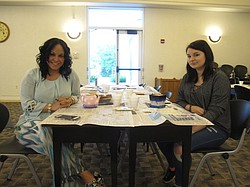 Photo
Neighbors | Zack Shively.The adult painting program at the Austintown library allowed attendees to paint a planter. Librarian Starr Jones sprayed the planters to make them shine. Jones also handed out a flyer regarding the library's resources for free online art classes throught the PLYMC. Pictured, Stephanie Caruso and Mackayla Schultz fininshed their art projects.
By ZACK SHIVELY
The Austintown library invited locals to their meeting room for a painting activity on June 7.
Austintown librarian Starr Jones organized the "Paint a Planter" program, where adults painted different ceramic planters. The library provided the attendees with paint, brushes, tape and the planters.
She said she planned the activity after they had a ceramic painting program for teens. Some adult patrons of the library saw the event listed in the library's happenings paper, and they asked if they could have a similar program for adults.
Jones had four different shaped planters for the painters to choose from: a typical square planter, a rain boot shaped one, another shaped like a water bucket and a tea pot shaped planter. The attendees chose one of the planters, decided on the colors of acrylic paint they wanted to use and then grabbed a few paint brushes.
The painters spent the hour painting and designing their planters. Once they finished and the paint dried, Jones took the planter outside and sprayed it with a sealing agent that made the paint look cleaner and shined more than before.
Jones gave out an information sheet for painting resources from the library. The library website, www.libraryvisit.org, has a learning center that gives library patrons access to over 500 universal classes, including ones on acrylic painting and watercolor painting. The site also allows access to Lynda.com, a site with more art courses. The sheet also explained how to use Overdrive to read digital art books.
More like this from vindy.com