Gunman kills 5 at Maryland newspaper in targeted attack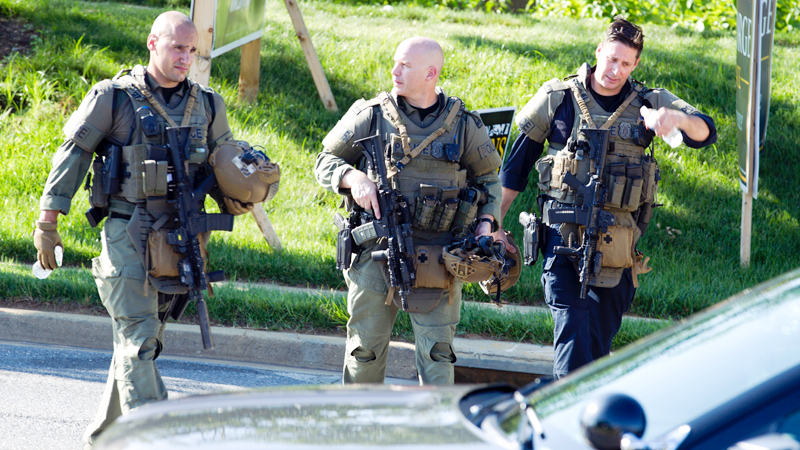 ---
RELATED: Newspaper staff reports through grief after colleagues slain
Associated Press
ANNAPOLIS, Md.
A man armed with smoke grenades and a shotgun attacked journalists at a newspaper in Maryland's capital Thursday, killing five people before police quickly stormed the building and arrested him, police and witnesses said.
Police said the suspect was a white man in his late 30s whose shotgun rampage at The Capital Gazette followed social media threats directed at the newspaper. A law-enforcement official said the suspect has been identified as Jarrod W. Ramos. The official was not authorized to discuss the ongoing investigation by name and spoke on condition of anonymity.
Authorities said the gunman entered the building in a targeted attack and "looked for his victims." He had smoke grenades and fired a shotgun at his victims, according to Anne Arundel County Acting Police Chief William Krampf.
"This person was prepared today to come in; this person was prepared to shoot people. His intent was to cause harm," Krampf said.
Among the victims was veteran journalist and columnist Rob Hiaasen, 59, brother of novelist Carl Hiaasen. Carl Hiaasen said he was "devastated and heartsick" at the loss of his brother, "one of the most gentle and funny people I've ever known." Three other journalists and a staffer were killed: editorial page editor Gerald Fischman; special publications editor Wendi Winters; writer John McNamara; and sales assistant Rebecca Smith.
Krampf said the gunman was a Maryland resident, and search warrants were being sought for his home.
Phil Davis, a reporter who covers courts and crime for the paper, tweeted that the gunman shot out the glass door to the office and fired into the newsroom, sending people scrambling for cover under desks.
"A single shooter shot multiple people at my office, some of whom are dead," he wrote. Davis added: "There is nothing more terrifying than hearing multiple people get shot while you're under your desk and then hear the gunman reload."
The attacker had mutilated his fingers in an apparent attempt to make it harder to identify him, according to a law-enforcement official who was not authorized to discuss the investigation and spoke on condition of anonymity. Another official who also spoke on condition of anonymity said investigators identified the man using facial-recognition technology.
The shooting – which came amid months of verbal and online attacks on the "fake news media" from politicians and others from President Donald Trump on down – prompted New York City police to immediately tighten security at news organizations in the nation's media capital.
At the White House, spokeswoman Lindsay Walters said: "There is no room for violence, and we stick by that. Violence is never tolerated in any form, no matter whom it is against."
Authorities said the suspect was undergoing questioning by detectives.
In 2012, Ramos filed a defamation lawsuit against the paper, alleging he was harmed by an article about his conviction in a criminal harassment case a year earlier. The suit was dismissed by a judge who wrote Ramos hadn't shown "anything that was published about you is, in fact, false." An appeals court later
upheld the dismissal.
More like this from vindy.com