Families buy discounted children's goods at park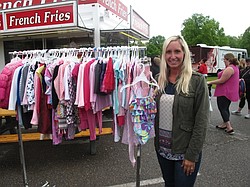 Photo
Neighbors | Zack Shively.Boardman Park had their 15th annual Baby Bargain Boutique on May 19. The park gave space to 150 families to sell their used children's items. Pictured is Stacie Hoover, a long-time visitor and vendor at the event.
By ZACK SHIVELY
Boardman Park hosted their 15th annual Baby Bargain Boutique for families in the community on May 19.
The event allows parents to set up areas to sell their old baby clothes and items to other parents at a cheaper price than most stores. The park puts on the event twice each year.
"It's moms selling to moms," said Karen McCallum, the park's recreation director. She compared the event to 150 different garage sales at once. She said the boutique created a great cycle of repurposing children's items.
One hundred and fifty vendors set up small shop areas from the Lariccia Family Bocce Pavilion to the Thomas C. Masters Pavilion on one side of the park. Vendor areas also extended along the side of the baseball field behind the bocce pavilion. Both pavilions housed many sellers as well.
"It allows you to give back to other moms while selling what you no longer need," said Stacie Hoover, a long-time patron of the event. Hoover has three children of her own and has shopped at the event for each of them. She began selling seven years ago and said the event always has a great turnout.
The event ran from 9 a.m. until 1 p.m., and despite the rain, McCallum said the park still saw a couple thousand at the event throughout the day. Those at the event brought everything from clothing, to children's furniture to toys for their children.
"The best part is that people are able to get great buys for their kids," said Katie Shurilla, a first-year vendor. She had shopped at the event in the past and loved that everything sold at a low price.
The event sold out of all 150 vendor spots. The money the vendors paid to reserve these spots went back to Boardman Park so they can continue to create free events for the community. The price of admission was free, but the families were asked to bring in a canned good. All canned goods went toward Boardman Center Intermediate School's food pantry.
More like this from vindy.com