Children spend the day at Mill Creek MetroParks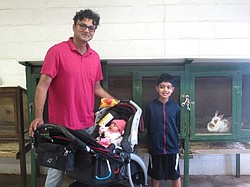 Photo
Neighbors | Zack Shively.Mill Creek MetroParks celebrated Kids to Park Day on May 19 with special events throughout their parks. The MetroParks Farm had a scavenger hunt for children and hike on a trail for the family. Pictured are the Ashraf family, Awais, Selma and Aadil, as they participated in the scavenger hunt.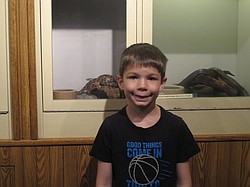 Photo
Neighbors | Zack Shively.Families visited the Ford Nature Center on Kids to Parks Day to see the animals housed at the center, explore their nature room and to make crafts with naturalist Cody Stoll. Pictured is Kenny Koby in front of the center's snakes.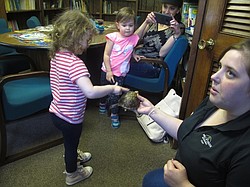 Photo
Neighbors | Zack Shively.The Kids to Parks Day gave the MetroPraks Farm, Ford Nature Center and the Mill Creek Golf Course to display what each of their facilities have to offer, such as the animals housed in the nature center. Pictured, naturalist Cody Stoll let Veronica Hallett and Clara Barrett pet the center's Eastern box turtle.
By ZACK SHIVELY
Mill Creek MetroParks organized events at multiple locations in the park for Kids to Parks Day on May 19.
Kids to Parks Day is a national program that occurs every year on the third Saturday in May. The park had events for families to spend the day together at the MetroParks Farm, Ford Nature Center and the Mill Creek Golf Course.
"It makes it fun to wander around the parks," said Bill Gilmore, a naturalist educator at the park. Each of the events gave families time together and allowed the parks to showcase what they have to offer at each facility.
MetroParks Farms had a scavenger hunt around the farm houses and a small hike on the Mindy Henning Memorial Trail located in the area. The children walked around the farmhouses looking for things such as a wheelbarrow and a tractor. They took pictures of the items on their cell phones to prove they found them.
The Ford Nature Center allowed families to tour the facility and see the animals on display there. They also toured a room in the center where children could make tracks in the sand, feel animal pelts and smell different nature scents.
Naturalist Cody Stoll made crafts with the children at the center. If there were a couple families, Stoll went into the back and brought out a couple animals. She eventually moved the center's Eastern box turtle into the room where she set out the crafts.
The Mill Creek Golf Course also had their Family Fun Saturday Golf on the date. The event gave families a discounted price to golf at the course. The golf course has these family prices each month between April and October.
More like this from vindy.com