Author of acclaimed book on America's opioid epidemic speaks to Valley professionals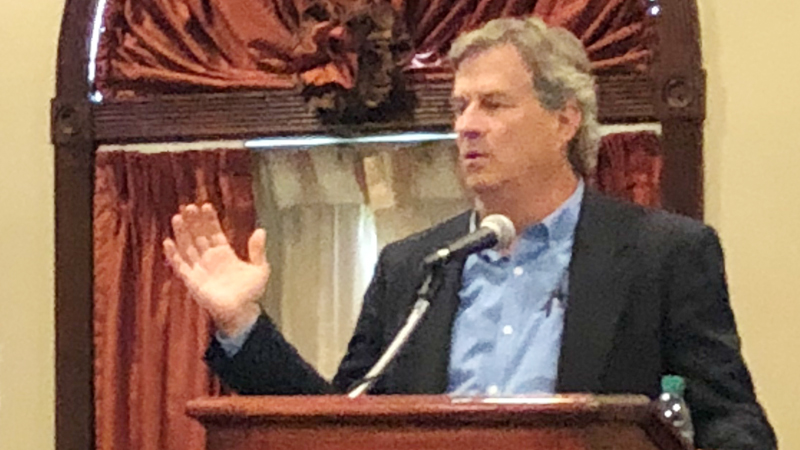 ---
BOARDMAN
When Sam Quinones, a Los Angeles-based freelance journalist and author, was working on a book about America's opioid epidemic, he thought the book might tank.
That's because throughout his travels across the country, he found few people who were willing to talk about the drug overdose deaths that had quietly skyrocketed since the late 1990s.
"I would go around the country and be met with silence," Quinones told a crowd of about 250 who attended a training event Thursday organized by Mercy Health and Mahoning County Juvenile Court and funded by the Mahoning Valley Hospital Foundation.
Quinones' 2015 book, "Dreamland, The True Tale of America's Opioid Epidemic," went on to earn widespread acclaim, winning the National Book Critics Circle Award. He was the seminar's featured speaker.
The event at the Holiday Inn on South Avenue also featured sessions about understanding addiction, human trafficking, the new medical marijuana law, prescribing laws, and other topics. Doctors, nurses, lawyers, ministers, and educators were among the attendees.
Judge Theresa Dellick of Mahoning County Juvenile Court said the annual seminar focused on opioids because the epidemic affects so many people and professions.
"We felt this was an important topic for everyone," she said. "This is what's tearing apart our families."
Quinones' reporting details how the increased availability of black-tar heroin transported from Mexico converged with the aggressive marketing of addictive narcotic painkillers to create America's deadliest drug epidemic in history.
In 2016, the epidemic's death toll of more than 63,000 people in the U.S. was higher than the number of people killed in the Vietnam War.
Beginning in the 1980s and into the 1990s, a revolution in pain medicine occurred within the U.S. medical community, Quinones said. At that time, doctors were pressed to alleviate patients' pain to the point that they were taught to treat pain as "the fifth vital sign."
"In that time, the idea grew – the pain was what the patient said it was," Quinones said. "It was this cultural shift."
Then, in 1996, Purdue Pharma introduced Oxycontin, a time-release painkiller the company marketed as nonaddictive, which was untrue.
Over the next few years, pharmaceutical companies aggressively marketed painkillers, and prescriptions skyrocketed.
When people began to search for alternatives to prescription painkillers, they found cheap, abundant heroin that dealers from Mexico would deliver right to their door. In "Dreamland," Quinones compares the ease of buying heroin to having a pizza delivered.
"I'm a crime reporter. I thought I was writing a book about drug trafficking – until it became clear it was about something much deeper," he said. "It was about who we had become as a country."
He cited reverence for the private sector, increased consumerism, and the erosion of community as factors, saying Americans began isolating themselves and sheltering their children from pain and disappointment.
"It seems to me heroin is the final expression of values we have fostered in this country for 35 years," he said. "It's the final stuff for a culture that believes consumption, accumulating stuff, is the path to happiness."
That's why he believes solutions to the crisis must include, but go beyond, access to treatment and overdose-reversal drug naloxone.
"I believe the antidote to heroin is not naloxone. It's community," he said. "There is no [one] solution. There are many solutions – a mosaic, a symphony of solutions."
More like this from vindy.com