Ribs-N-Rock Festival at Southern Park Mall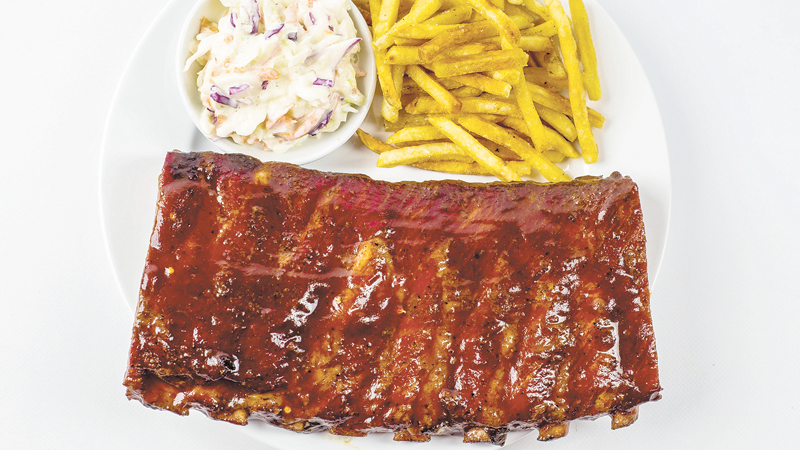 ---
By GUY D'ASTOLFO
BOARDMAN
Stoking a tradition that has been smoldering for years, the inaugural Ribs-N-Rock Festival will take place tonight through Saturday at the Southern Park Mall parking lot.
The festival will bring a hard-to-beat combination: live rock'n'roll, cold beer and the irresistible aroma of slow cooking ribs.
Five rib cookers and some traditional fair-food vendors will set the stage for 11 bands, including headliners The Clarks tonight, Candlebox on Friday, and Sponge on Saturday.
Ribs-N-Rock will be the first rib fest in Boardman in 15 years, and the first in the Mahoning Valley since the demise of the Mahoning Valley Rib Burnoff at Eastwood Mall five years ago.
Corey Ward, promoter and owner, said the festival is filling a gap in the Valley.
"The public was really asking for it, so we decided to bring it back," said Ward, who owned the Steel Valley Super Nationals until he sold it two years ago.
Admission each night is $6 (free for children 12 and under; no additional charge for the concerts).
Delectable slabs of ribs will be offered by Sweet Home BBQ, of Alabama; The Texas Outlaws, Kentucky; Barry Dyngle's, Austintown; Texas Thunder, Texas; and Chili's Grill & Bar, Ohio.
The Clarks, long one of Youngstown's favorite bands, will take the stage at 7 tonight.
The Pittsburgh-based band has played the Mahoning Valley many times over the years. Its last appearance, a 2016 outdoor show on Central Square in downtown Youngstown, attracted thousands. The band just released its 11th studio album, "Madly in Love at the End of the World."
Candlebox and Sponge were major players in the '90s, blending alt-rock style into their hard-edged guitar attack.
Candlebox is celebrating the 25th anniversary of the release of its self-titled debut album with a U.S. tour. The band will perform the hits from that album – including "Far Behind," "You" and "Cover Me" – as well as songs from its five other releases, including 2016's "Disappearing in Airports."
"This tour is for our fans, those that have continued to support us for 25 years," said Kevin Martin, frontman and founder of the Seattle band, in a news release. "It's been an honor to play for them throughout the years and we feel truly fortunate that our music continues to resonate with our audience."
Hailing from Detroit, Sponge gained fame with its 1994 debut album "Rotting Pinata." Hits like "Plowed" and "Molly [16 Candles]" fueled massive airplay on radio stations from coast to coast and were in heavy rotation on MTV in the late '90s.
The act followed up with the critically lauded album "Wax Ecstatic," which included the title track and "Have You Seen Mary?"
Festivalgoers can expect to hear all of the band's hits plus some newer tracks from 2016 release "The Beer Sessions."
The band is led by vocalist Vinnie Dombrowski, who founded the act in 1991.
More like this from vindy.com