UPDATE | Man survives jump from Spring Common Bridge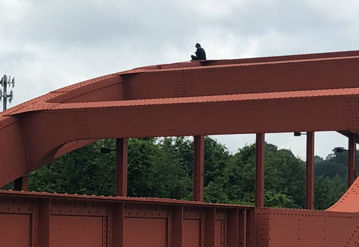 ---
YOUNGSTOWN — A man leaped from the top of the "Mr. Peanut Bridge" (Spring Common bridge) on Mahoning Avenue near Martin Luther King Jr. Boulevard and into the Mahoning River this afternoon.
The man survived the jump and returned to shore on his own, first responders said.
The reason for the jump is unknown. First responders on the scene declined to comment on whether the man sustained any injuries.
The man was taken from the scene in an ambulance.
1:57 p.m.
YOUNGSTOWN — Fire and police officials are at the scene as a man has walked to the top of the Spring Common Bridge at Mahoning Avenue and Martin Luther King Jr. Boulevard.
A witness told The Vindicator he watched a man scale the bridge to the top just after 1:30 p.m.
This is a breaking news story. Watch Vindy.com for updates.
More like this from vindy.com