City's 222nd year celebrated at 3rd Happy Birthday Youngstown event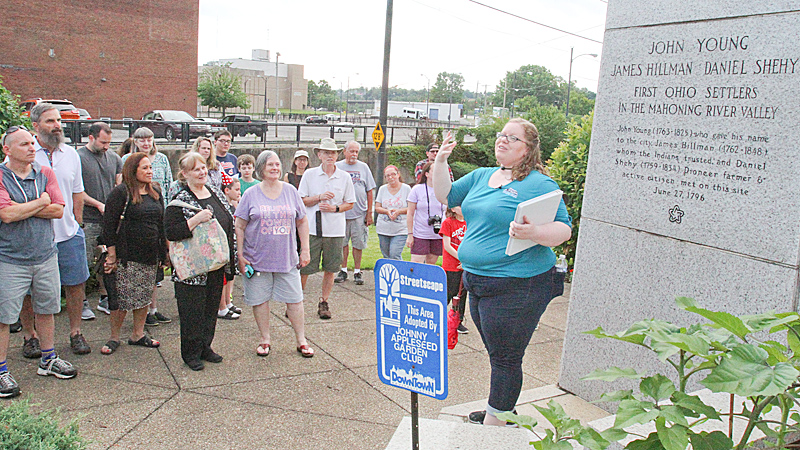 ---
By WILLIAM K. ALCORN
alcorn@vindy.com`
YOUNGSTOWN
More than 125 residents of Youngstown and throughout the Mahoning Valley gathered Wednesday at Tyler Mahoning Valley Historical Center on West Federal Street to celebrate the city's 222nd birthday.
Now in its third year, the Happy Birthday Youngstown event, sponsored by the Downtown Youngstown Partnership, a group of businesses working together to draw attention to the downtown area, is not only a celebration of the city's founding on June 27, 1796, but of its rebirth, said Phil Kidd, assistant director of Youngstown CityScape, a nonprofit organization dedicated to improvement of Youngstown's downtown area.
Participants not only were served cheesecake, they witnessed the dedication by Youngstown CityScape of five 24-by-36-inch self-guided walking tour devices and the Utility Box Art Project featuring a mix of art and photography by local artists Daniel Rauschenbach, David Tamulonis and Chauncey Hay.
The self-guided walking tour signs explain the history of each respective location and include captioned photos and a QR code that discusses current and future plans for that location. The topics and locations are: Mahoning River, B&O Station observation deck; The Founding & History of Youngstown, bicentennial marker near the Mahoning Avenue Bridge; Central Square, Civil War Soldiers Monument; Wick Avenue, The Public Library of Youngstown and Mahoning County main branch; and Wick Park Historic District, Wick Park. Project partners are the Mahoning Valley Historical Society and Friends of the Mahoning River.
The self-guided tour project is funded by the J. Ford Crandall Memorial Foundation, the Kennedy Family Fund and the Ward Beecher Foundation.
Five boxes of the Utility Box Art Project locations are in Central Square, and one is on West Federal Street near the Youngstown Business Incubator and the DeYor Performing Arts Center. YSUScape was the project partner, and funding was provided by the Ohio Arts Council.
Among those in attendance was Youngstown Mayor Jamael Tito Brown, who described Happy Birthday Youngstown as a "great family-friendly event" that shines the spotlight on Youngstown's history and positive aspects of the city.
Other participants were Brian and Melissa Lasher and their sons, Hudson, 9, and Bryce, 8, members of Cub Scout Troop 4050, led by Bear Den leader Kristy Johnson, who met at Happy Birthday Youngstown in lieu of a regular meeting.
"I love the Mahoning Valley Historical Society and work it does," said Leeanne Lee of Girard. The MVHS provided the venue for Wednesday's event.

Also, Lee, a freelance graphic designer and photographer who graduated from the Art Institute of Pittsburgh, said she just likes to spend time in Youngstown.
Chuck Beltz and his wife, Karen, of Boardman, enjoy tours of museums and parks in Youngstown. Chuck, who was born in Sharon, Pa., said the self-guided tours are a good idea.
More like this from vindy.com