Cirque samples skills at WOW! downtown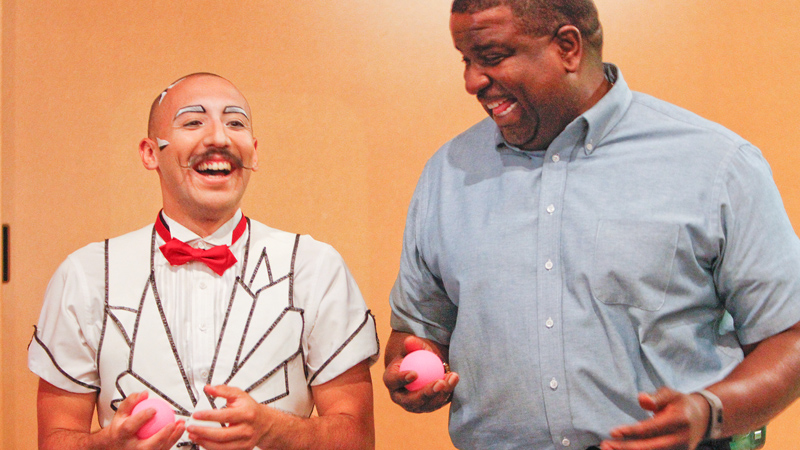 ---
By SEAN BARRON
news@vindy.com
YOUNGSTOWN
The concept of traveling carries more than one meaning for Jimmy Hake of Boardman.
"They contacted me for extra training in Montreal. I have a professional background in in-line skating," he explained. "I'm also very excited to go to different cities."
Besides traveling the world, Hake does his share of getting around on a pair of skates, courtesy of being part of Cirque du Soleil, a Montreal-based entertainment company known for its theatrical, character-driven approach to performing a variety of circus-style acts with specific themes and story lines but without animals.
Hake was among four performers who gave a demonstration to a group of youngsters and adults Tuesday morning at OH WOW! The Roger & Gloria Jones Children's Center for Science & Technology, 11 W. Federal St., downtown. The others were Emma Stones of Whitby, Ontario, Canada; Jorge Pedit of Chile; and Lkhagvaochir Erdeneochir of Mongolia.

The brief performance was a sneak preview of Cirque du Soleil's upcoming six shows beginning at 7:30 tonight and running through Sunday at the Covelli Centre on Front Street.
The 35-year-old Hake said he's a relative newcomer to the troupe after having undergone a series of intense training sessions.
As part of Tuesday's entertainment, he performed a few jumps over two poles, then skated under Pedit's extended arms as Pedit dazzled his audience with a flurry of juggling moves with five balls.
One of the performers also used one or both poles with small square platforms to perform a series of handstands as well as leg and body twists, extensions, flexions and elongations while balancing on one hand.
"I liked the juggling," said Vanessa Parsly, 4, of Youngstown, who came with her grandmother, Cindi Madej.
"It's almost unbelievable how athletic they are," said Madej, who recalled having seen Cirque du Soleil perform in Las Vegas. "I admire the work it takes to get to that level."
Also watching in admiration was Hake's sister, Michelle Green of Boardman; parents Roger and Karen Hake; and 10-month-old nephew, Parker Green.
"He's been skating since he was a kid. I'm so proud of his professional accomplishments," which also include having been signed by a sponsor at a young age and having won several awards, Michelle Green said of her brother.
"It's overwhelming, but it feels like a life achievement," said Hake, who added he's a bit nervous but excited about performing at Covelli.
Also on hand was Mayor Jamael Tito Brown, who handed a proclamation to the group – then did his best to perform a few juggling moves with assistance from the performers.
More like this from vindy.com