Warren veteran's story now part of Library of Congress history project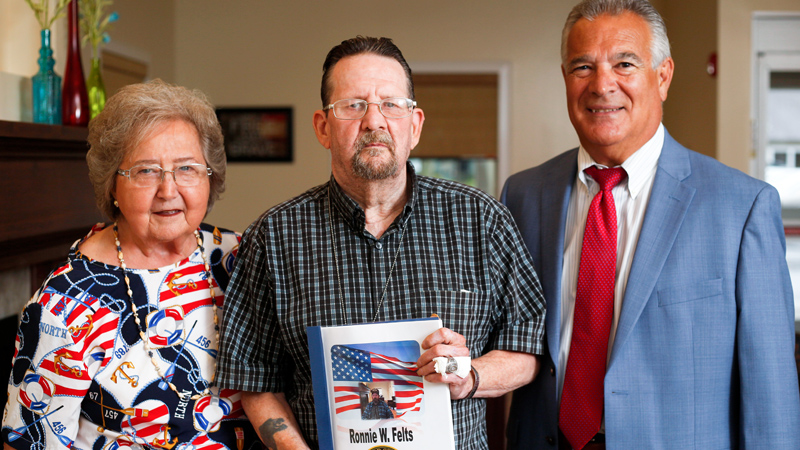 ---
By Ed Runyan
WARREN
The story of Ronnie Felts, an Army veteran of Vietnam and Korea, has been put into writing and preserved in the Library of Congress American Folklife Center in Washington, D.C.
Felts, who lives at Washington Square nursing home on Washington Street Northeast, served in the Army from 1965, when he enlisted, until 1970.
But his story of being wounded in the shoulder and elsewhere in combat, held as a prisoner about two months and saved by South Vietnamese "mountain people" might never have been told if not for a program through the Trumbull County Probate Court.
In May, Shirley Barbe DiVencenzo, a longtime volunteer in the probate court's Guardian Angels program, interviewed Felts.
Court reporter Debbie Sabat, also a Guardian Angel volunteer, transcribed the interview as part of the National Court Reporters Association Veterans History Project.
Felts was trained as a sniper and became an Army Ranger and later trained others to be Rangers.
Felts lives in a nursing home that specializes in military veterans, so he's around other veterans, but he doesn't go out of his way to talk about his military service.
"No one ever asked me about it. Some guys don't even know I was in the service, just because of the way I act," Felts said during a recent interview.
"I don't go around blasting it, saying I'm a war hero," said Felts, who was awarded several medals, including the Silver Star, Purple Heart and Combat Infantryman Badge, according to the Trumbull County Veteran's Service Commission.
Felts said a coffin and some South Vietnamese people helped him survive captivity.
The "mountain people" enabled him to survive, making sure he had air and water. Eventually they delivered him to a safe place. He was treated in an Army hospital in Okinawa, Japan, starting May 25, 1969, Veterans Service Commission records show.
Felts said he would sometimes tell other veterans at Washington Square about his military experiences, and "they couldn't believe I did it. They'd say, 'I can't believe a little guy like you'" survived that.
"Well, that's what it takes is a little guy, not no big Hulk Hogan guy," Felts said.
Felts explained that the coffin was a safe place for him because it was "taboo for any of the Vietnamese to touch that coffin. The mountain guys knew it, and so did the Vietnamese and the Viet Cong. They never touched it."
Felts said he was part of a long-range reconnaissance patrol, or LRRP, when he and the other men in his unit were captured after being dropped in the wrong place. His fellow soldiers were killed, but his Vietnamese captors kept him alive because he knew how to speak some Vietnamese and was considered "important" because he carried maps, Felts said.
A LRRP is a small, heavily armed reconnaissance team that patrols in enemy-held territory to send information back to the other troops.
Felts, 70, said he joined the Army in 1965 in his hometown of Cleveland because his friends did.
"All of the guys in the neighborhood were joining the service, and I didn't want to be left behind," Felts said. He was 17 when he enlisted.
When he returned home, some people treated him badly because of the unpopularity of the war.
"I always had people saying things to me, like, 'My son went to Vietnam and came home dead. You come back, and I have to make you a hero,'" Felts said.
"What am I supposed to say? I didn't make myself a hero. I just went over there. It wasn't my idea going to Vietnam to be a hero. I went over there because all the other guys were going to Vietnam, and I had to go. My father was in World War II. My mother used to help the USO."
Felts lives in the Warren area partly because his brother, Lawrence Felts, and sister-in-law, Elizabeth, live in Champion.
More like this from vindy.com