The women received NAACP Youngstown/Mahoning presented the Academic Pyramid Scholars Awards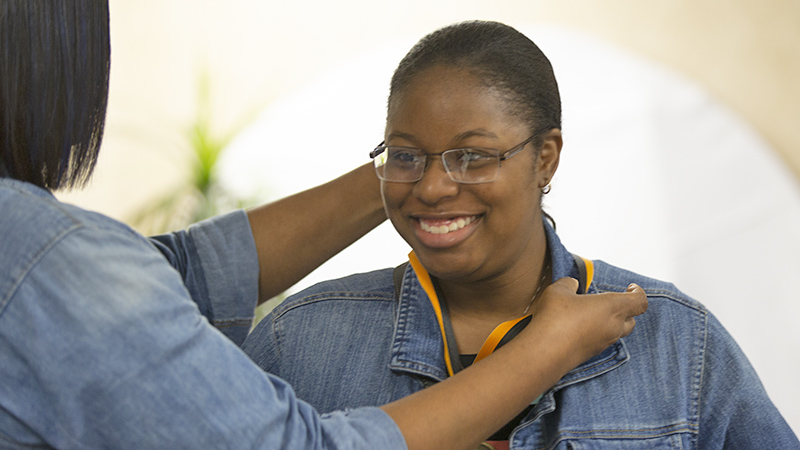 ---
YOUNGSTOWN
Montazia Tolbert, a senior at Youngstown East High School, and Tyaizia Allen, who begins her junior year this fall, were among 36 young black females recognized for their good grades Sunday evening at the Academic Pyramid Scholars Awards.
To qualify for the award, the young women, academically in the top 1 percent in their school, had to have at least a 3.0 grade point average with no F's or D's on their report cards, said Jimma McWilson, vice president and youth adviser for the Youngstown NAACP, which sponsored the event.
Medals were presented to the recipients by their mothers and other family members.
The primary purposes of the event is to drive home the theme "Achievement Matters When Brilliance Trumps Beauty" and "showcase African American female students at the top of their academic game, " McWilson said.
Montazia, who is beginning her college career at Ohio State University this fall, participated in Youngstown City Schools' Young Scholars Program and played volleyball at East. Montazia's older sister, LaRazia Tolbert, who was also in the Young Scholars Program, is a junior at OSU.
They are the daughters of Monica and Larry Tolbert of Youngstown, who both said they are very proud of their daughters. Monica is a nurse at Mercy Health and Larry is a detention officer for the Mahoning County Juvenile Justice Center.
Tomicia Allen of Youngstown has two scholars in the family and said she is very proud of both of them.
Her daughter, Tyaizia, was a recipient of an Academic Pyramid Scholars Award on Sunday and her son, Louis Allen, is a freshman at Youngstown Early College..
"They are going to be my doctor (Louis) and lawyer (Tyaizia)," said Tomicia with a laugh.
The children of Kanesha Jackson of Youngstown, Daija Jackson and Angelo Evans, are both college- bound.
Daija, who also received a Scholars Award on Sunday, is a senior at East High School and carries a 3.8 GPA. She plans to do her undergraduate classwork at Thiel College or Westminster College, both in Pennsylvania, and eventually become a dentist.
Angelo graduated last spring from East and plans to begin his college career in the fall at Eastern Gateway Community College.
The Scholars Award recipients received advice from several speakers.
"Take time to focus on your youth and stay grounded in God," said Crystal Swiggett, co-president of the Youngstown NAACP Youth Leadership Council, the organization that sponsored the event.
"The possibilities for you are limitless, but it is necessary for you have an idea where you want to end up so you can make a plan to get there," said Dr. Rochelle Pugh, one of several community speakers.
"You are at the top ... not just future leaders but leaders now," said Willann Moore, a retired elementary school principal and a member of the NAACP Ohio State Executive Committee.
"You've stayed the course. Don't let anyone tell you what you can and can't do. You have to know your self-worth," said Moore.
More like this from vindy.com