Improvements abound in Mahoning Valley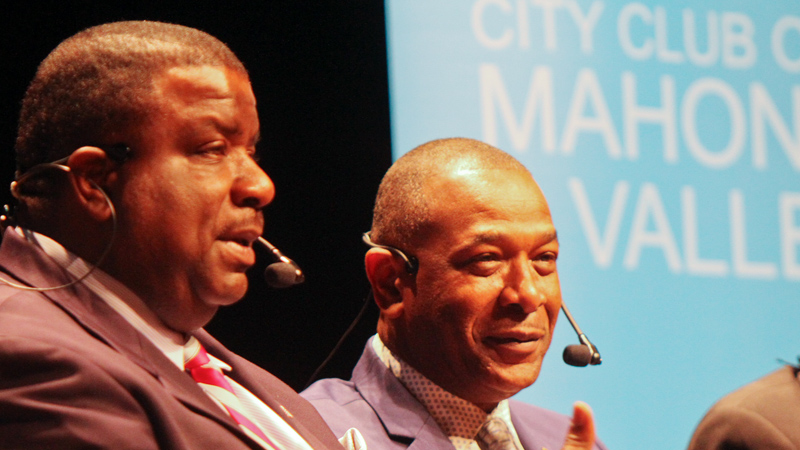 ---
By SEAN BARRON
news@vindy.com
WARREN
The Mahoning Valley has experienced decades of economic decline, deteriorating housing stock and other challenges. More recently, however, the Youngstown and Warren corridor continues to see increased public- and private-sector collaboration, along with greater technological investments and efforts to rebuild the urban core.
That was a central theme that ran through Monday evening's inaugural State of the Valley forum at W.D. Packard Music Hall on Mahoning Avenue Northwest.
Hosting the gathering was the City Club of the Mahoning Valley.
Panelists who focused on the region's economic progress and development were Mayor Jamael Tito Brown of Youngstown; Mayor Doug Franklin of Warren; Michael D. Keys, Warren's community-development director; and Dominic C. Marchionda Jr., Youngstown's economic-development liaison.
"Investors look at regions, so we must have a collaborative approach," observed Franklin, who cited the recent D.C. fly-in he and Brown participated in partly to demonstrate a unified approach toward advocating on behalf of the Valley's needs.
Also discussed was the possibility of Camp Ravenna being selected as the location for the East Coast Missile Defense site, a move that could create thousands of jobs for the region, as well as numerous educational opportunities, even though the project would be in neighboring Portage County.
Because much of the demise of the Valley's steel industry took place in the late 1970s and early '80s, most of the area's young people have no connections to that part of Youngstown and Warren's history. So instead of living in the past, many of them are focused on moving the region forward, Keys observed.
"The most important thing we can do is to get younger people involved," he said. "It's the energy of the young people, the ideas of the young people that will determine where we will go from here."
The panelists then denounced the recent mass incarceration and deportation of many undocumented immigrants. Brown cited longtime Youngstown businessman Amer "Al" Adi Othman, who was deported earlier this year to his native Jordan, saying Adi "took a great risk" to be among those who helped revitalize the city.
Immigrants have been and continue to be a driving force behind contributing positively to the region, Marchionda added.
Also looked at were ways to align workforce-development strategies with certain national trends, along with deepening workforce collaborations with Youngstown State University and other public and private entities.
More like this from vindy.com