Former NFL quarterback at Mooney football camp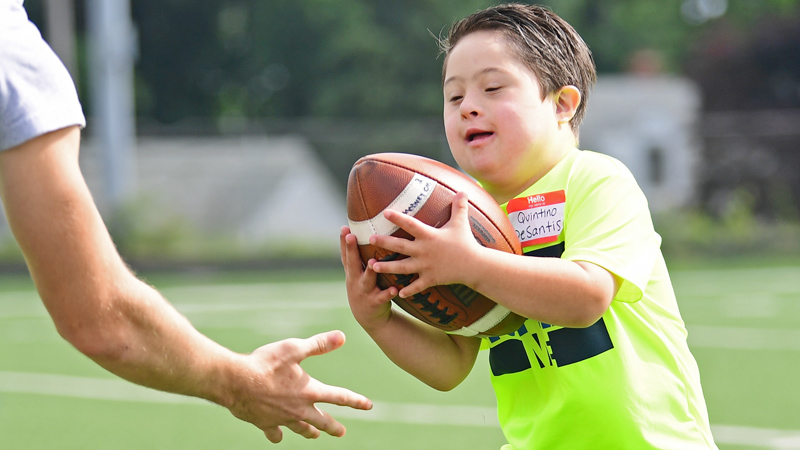 ---
By DAN HINER
dhiner@vindy.com
YOUNGSTOWN
Cardinal Mooney High School had the first day of its 18th annual Camp of Champions at Cardinal Mooney Football Complex on Monday.
Bo Pelini, Youngstown State University head coach, members of his staff and others were on hand to coach students in grades three through eight. But one of the more active coaches was former NFL quarterback Mike Tomczak.
The former Chicago Bears and Pittsburgh Steelers signal caller worked with young quarterbacks, threw to kids at the event and joked with them during drills.
"We're just introducing some of the fundamentals," said Tomczak who played his college ball at Ohio State. "My expertise is obviously working with quarterbacks and I'm going to teach them the fundamentals [such as] how many laces are on a football.
"There's eight laces and you always learn that. So there's one takeaway – they know there's eight laces on a football."
Tomczak has been active in Northeast Ohio and Western Pennsylvania since retiring in 2000.
He's been working in the steel industry's industrial maintenance field, specifically targeting western Pennsylvania and Youngstown. But when he's not working, he's back on the football field.
Tomczak volunteered his time with the YSU football team last season and will spend more of his time with the Penguins this year.
"Coach Pelini's allowed me to have access to the team and meetings and all that stuff," Tomczak said. "I've always had a passion for football, and there's not a better place than Youngstown State at this time in my life."
The 16-year veteran said he was focusing on the building blocks at the camp because the students' coaches on their teams probably would have more influence.
He's taking the same approach at YSU. Tomczak has been passing along life lessons while leaving the coaching to Pelini and his staff.
"As a volunteer at YSU, there's coaches that are in positions because they're getting paid, and Bo's hired a great staff there," Tomczak said.
"I just try to bring energy and a different perspective, not just because I played the game for 16 years and had a nice career at Ohio State, but because I love being around the game."
Tomczak spent some time with other colleges and high schools, training camps and was the offensive coordinator for the Arena Football League's Pittsburgh Power in 2010.
But he's not ready to put the headset back on.
"When you're a volunteer, you don't get criticized," Tomczak joked.
Other notable coaches at the camp were Mike Zordich Sr., Michigan secondary and special teams coach, Matt Kubik, University of Louisiana at Monroe offensive coordinator, and former Cleveland Browns running back Greg Pruitt.
"It shows that we care," Tomczak said. "Even though we carry some knowledge and experience, we're willing to pass it onward. Paying forward is what Woody Hayes [said] and what we learned at Ohio State.
"And if you can share some of your skills and some of the things you've learned along the way, the more voices the better."
Cardinal Mooney head coach P.J. Fecko said Tomczak's involvement in the area is an asset to Youngstown football.
"To bring his knowledge and experience over the years and pass something along to these young folks and to those young college athletes is really great," Fecko said.
More like this from vindy.com