Junior soccer milestone celebrated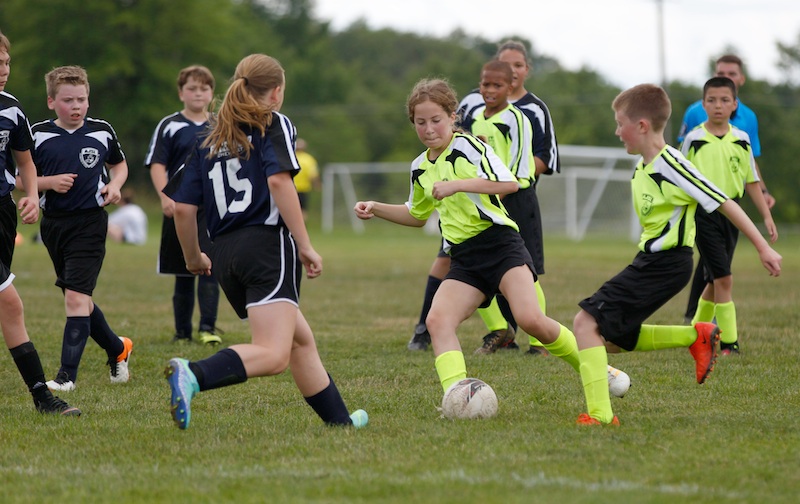 ---
By Greg Gulas
sports@vindy.com
AUSTINTOWN
With 59 teams, nearly 750 participants and a bevy of volunteers whose priority is to ensure everyone has fun, the Austintown Junior Soccer League is arguably the premier youth soccer league in the area.
It's a league open to players between the ages of 4 and 18 who want to learn the game, hone their skills and have fun competing.
The AJSL is celebrating its 40th anniversary this weekend, with the end of their regular season. The two-day celebration culminates with the Falcon Cup finals, today at Derrick Walls Fields on Ohltown Road.
"This is our World Cup of soccer," said Tom Totterdale, six-year league president. "We start in early April and then have matches from May to June.
"We have eight age groups, play 400 regular season games and another 40 games this weekend," Totterdale said. "When this weekend is over, our travel program begins with six boys and six girls teams competing from July through October. Tryouts for our travel teams are currently taking place."
Other Saturday events included a bounce-around house, mug shot photo booth, 50-50 raffle, basket raffle, a commemorative 40th anniversary t-shirt stand.
Donations were accepted as the league looks to pave its entrance road.
Bill Spencer, head coach of the Austintown Fitch girls soccer team, played in the league in its inaugural season (1978) until the mid-1980s. He returned in 2001 when his son played and has been with the AJSL since 2002.
He's been a coach, serves on the board and is league schedule.
"This is our feeder system for Austintown Fitch High School and it has been great over the years," Spencer said. "It seems as though my progression has been like the kids' progression.
"In addition to the players, we employ a great group of referees," Spencer said. "They're ex-players who have become officials and they keep coming back. Plus, we have 125 volunteers and coaches who are instrumental our success."
Guy Coviello is an official who has refereed league games for six years.
"My son, Lucas, started playing when he was 5 years old and began refereeing when he was 12,Coviello said. "It's been tremendous because it has been a bonding experience for us.
"This is a well-run organization and while we have a shortage of soccer referees in the area, the AJSL is helping groom those referees," Coviello said. "They have mentors and also become mentors."
Angie Melia coaches the Boak and Sons 12-U squad, of which her daughter, Brylee, is a member. She also coaches one of the league's travel teams.
"Brylee started before I began coaching and had so much fun," Melia said. "She loved it so much that Tina Bondi and I started the travel team. I love it because everyone enjoys playing."
Brylee will be a seventh grader this fall at Austintown Middle School.
"I enjoy playing for my mom and over the years I have made a lot of friends. I continue to make new friends every season," she added.
Dan Conley, 31, is the Austintown Fitch junior varsity coach. He also coaches the Sheetz 10U team, played in the league in the mid-90s and has been coaching since he was 18.
The Conley lineage is well-documented as father, Joe, served as vice-president for many years, mom Vickie ran the concession stand and grandfather Lawrence helped cutting the grass.
"The AJSL has afforded me the opportunity to forge many friendships over the years, both as both a player and also as a coach," Conley said. "I started coaching my little brother, Ben, who is nine years younger than me. While I loved the game, it became my passion when I started coaching.
"This is a recreational league and the No. 1 priority isn't winning. It's to improve over the course of the season and just keep getting better."
Mark Debernardo, 8, is a second grader at Lordstown Elementary School and a member of the Conley's squad.
"It has been a fun season and we're hoping to get to the finals," he said.
Terry Marvin of Leavittsburg was watching grandson Owen, 11, compete.
"My two granddaughters, Tiffany and Cassidy Lindberg, both played about 10 years ago and had a great experience," Marvin said. "Now, it's nice to see Owen having that same kind of fun.
"My wife, Martha, and I don't miss very many games and really enjoy this set-up."
AJSL vice-president Pat Schafer, played two years in the league during its infancy and was a member of the Falcons' first soccer club team in 1982.
"For me, it's watching the kids have fun, grow and mature and then watch them as they progress to the different levels of play," Schafer said.
Totterdale said, "This is more than just a soccer league because we are one big family, "We take kids at an early age and they get to see if this is something that they would like to pursue. They develop good work habits, not only on the field but in life as well."
More like this from vindy.com