Future brides visit Goodwill event to find the perfect gown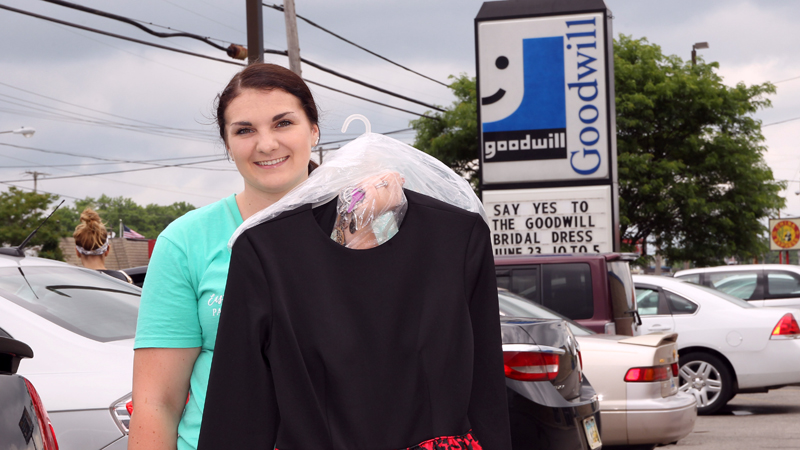 ---
By Sean Barron
LIBERTY
It's no secret that planning a wedding often takes a tremendous amount of time, money and attention to detail, but Megan Deskin already has experienced an early dose of wedding bliss.
"It's definitely an amazing deal to get this for that price – something any bride would dream of," the New Springfield woman said as she began the process of finding a dress for her wedding, set for 2020.
Deskin, a Bowling Green State University gerontology and pre-med major, was among the brides-to-be who took advantage of Saturday's first "Say Yes to the Goodwill Dress" sale at Goodwill Industries Inc., 2747 Belmont Ave. Dozens of new bridal gowns and dresses were on sale for up to 75 percent off their original price.
Hosting the event was Goodwill Industries of the Mahoning and Shenango valleys.
Also part of the seven-hour reduction sale were two racks of donated bridesmaid's dresses, along with accessories that included a variety of pearls, beaded purses, shoes and rhinestones. Cocktail dresses with colorful combinations of crystals, jewels and rhinestones that the Salem Goodwill store donated for the sale sold for $25 each.
"A bridal store in Pennsylvania closed, and they donated their inventory of dresses to Goodwill," noted Talva Maslach, vice president of the Junior Group, a Goodwill Industries fundraising arm.
The sale also included used, donated gowns for $55 each, Maslach said.
Deskin, who got engaged a few weeks ago and is deciding on a wedding location, was all smiles as she started looking for an ivory-colored mermaid- or A-line-style dress with beading, off-the-shoulder straps and buttons down the back. Another high priority was to find dresses for her fellow Kappa Delta sorority sisters at BGSU, she continued.
Accompanying Deskin was a friend, Morgan Brandt of Boardman.
Jordan Pitts' wedding plans are a bit murky, but that didn't stop her from putting a few clear, early ideas into motion.
"I'm kind of browsing," said Pitts, of Canfield, who came with her son, Michael Deutschlander, 1, and daughter, Stella Deutschlander, 2. "Lace [at the sale] is a hot-ticket item, because you can't get lace at good prices these days."
Pitts also will be in someone else's wedding in a few weeks, so she kept her eyes open for a mermaid silhouette, off-white and rather plain dress for that special occasion, she explained.
As part of a community-service project, several members of the Canfield-based Steel Valley K-9 4-H Dog Club made their own fashion statements by modeling some of the dresses.
"It's awesome; I love it," said member Karen Hoschar, a Chaney High School junior who at one point was decked out in a New York-style ball gown with a veil and a long train. "This is my first time modeling."
Joining her were fellow 4-H members Callia Barwick of Canfield along with sisters Chase and Channing Toy of Salem.
Maslach said the sale will appeal also to women whose grooms are in the military, because such brides-to-be probably won't want to spend $3,000 or more for a dress. One shopper bought a beaded bodice ballgown with a black-satin skirt designed by internationally acclaimed fashion and costume designer Bob Mackie for $145, she continued.
During his five-decades-long career, Mackie has designed outfits for celebrities including Cher, RuPaul, Bette Midler, Diana Ross, Joan Rivers, Barbara Eden, Judy Garland, Liza Minelli and Carol Burnett.
More like this from vindy.com