Former Chaney QB shakes up camp format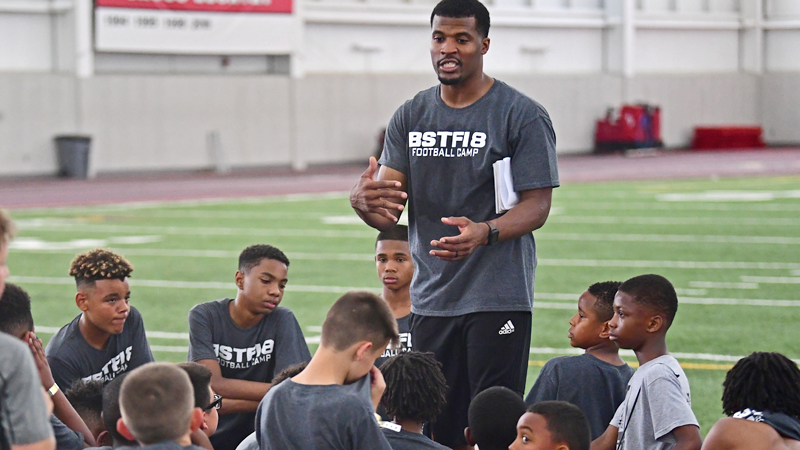 ---
By Dan Hiner
dhiner@vindy.com
YOUNGSTOWN
Former NFL wide receiver and Chaney quarterback Brad Smith made some changes to his youth football camp.
Smith made the application process more challenging, adding an essay section for the 11th Annual Truth Foundation Football Camp. The camp was held on Saturday at Youngstown State's Watson and Tressel Training Site.
Prior to the 13 to 18-year-old athletes taking the field, Smith told them the application process was changed because he wants to see commitment.
Essay questions included "what they want their college major to be?" and "what they would like to see changed in their community?"
"Usually the application process was sign your name, put your sizes down, sign the waiver and you're done. There's very little time commitment in that," Smith said.
Smith wanted to get families to think about the future, which he thinks led to a change in the attitudes of the children and the parents in this year's camp.
The camp usually brought in approximately 300 campers. But due to the application process, only a little more than 120 participated in this year's camp. Smith said the campers appeared more focused than in past camps.
At the end of the drills, Smith told the campers "two hours of here ain't gonna change your work ethic.
"I wasn't fast growing up. I wasn't big or strong, but [former Chaney football coach Ron Berdis] used to ask 'What do you want to be?'" Smith said.
"My work ethic increased then because I had a goal, I had a vision down the line."
A number of locals helped coach the camp including his former teammate Anthony Floyd and former Kentucky and Cardinal Mooney linebacker Courtney Love.
"I want people who love kids. Who love making an impact and who had made an impact on my life," Smith said.
Love, who was invited to the Steelers' rookie minicamp, has been volunteering as a coach with Kentucky. Smith said bringing in a younger coach like Love was important because he's young like the campers.
"It's invaluable to these kids," Smith said. "You don't have to be the best speaker or the greatest in the world. You just gotta show that you care. And I commend him, he does, he cares for them."
Smith has had some time to think about the camp since his last NFL season back in 2014 with the Eagles.
The former Missouri quarterback said he continues the camp because he wishes he could have participated in one when he was younger.
Despite being retired, the former college quarterback still has a little arm strength left. He spent time with the wide receivers and quarterbacks, throwing passes while the younger players were running routes.
"I think I gotta little juice in there," Smith joked. "I think I'm gonna feel it tomorrow."