Decaying trees growing concern on North Side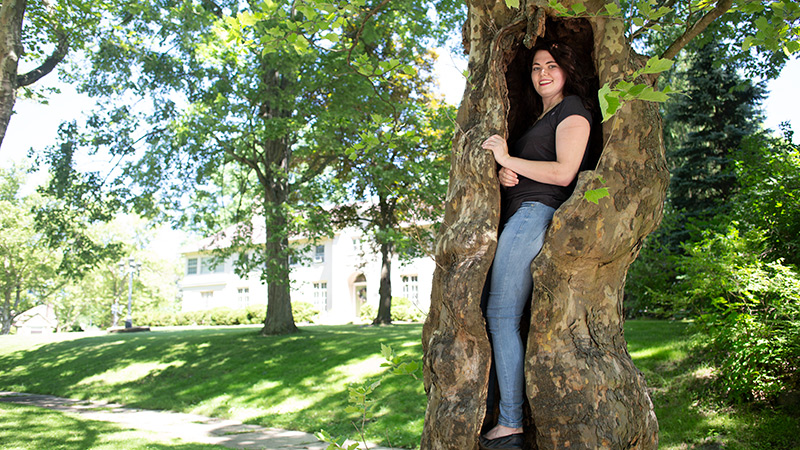 ---
By GRAIG GRAZIOSI
ggraziosi@vindy.com
YOUNGSTOWN
Something is eating the trees on the city's North Side, and Patricia Tupper is worried someone will get hurt.
The focus of her fears is a more than 50-foot sycamore tree between her property and Tod Lane with a gaping wound in its side large enough to fit a small person.
Tupper said she's been watching the tree rot from the inside out for the last several years, and now she fears it will eventually collapse onto the street, potentially onto a school bus or a car.
"I just can't ignore the tree. I don't want anyone to get hurt, so I've tried everything I could to get the tree removed," Tupper said.
Over time, she began seeing more trees along Tod Lane and other nearby roadways that are afflicted with the same problem: long, deep gashes in the sides of trees with dry, decaying internal wood all but turning to dust from the inside out.
Tupper — who has lived on Tod Lane for 40 years — said she has called city officials to report problems with the trees but has yet to see any action taken.
"I don't know what else I can do, but I'm not going to let up, it's needs to be dealt with," she said.
Third Ward Councilman Nate Pinkard said he is aware of the issue with many trees in his ward, and that maintaining them boils down to time and funding.
"I have those trees pruned all the time, but the truth is we have a lot of dead trees. I wish I could get them all cut down," Pinkard said. "We have more trees than we can handle. It comes down to dollars and cents."
The city has only one forester, and so must rely on a single person to care for all trees in Youngstown.
"We have enough work to justify having a team on each side of the city," Pinkard said. "But it comes down to funding. I encourage residents to notify the parks and recreation department when they see dead trees."
He said he would notify the department about Tupper's tree to ensure it is examined.
Pinkard explained that many trees on the North Side have deep root systems, which not only can result in roots rupturing city sewer lines and doing damage to residents' homes, but can also cause damage to the trees themselves, such as the rot afflicting Tupper's tree.
"Many of these trees were planted 100 years ago or more. Back then they were a good idea, but we've since learned that trees with shallow roots are better for urban environments," Pinkard said.
David Sturtz works for the Youngstown Parks and Recreation Department and is the only forester employed by the city.
"I'm familiar with the tree, I've looked at it. We've been over there several times in the past few years working on that section of Crandall Park, and it's not uncommon for those trees to get damaged in their centers like that," Sturtz said.
"With just the one crew and one truck, we do end up with a backlog. Her tree needs addressed, but I do have trees that are worse off than that one that also need attention. It's just a matter of having the time to get to them all."
Sturtz said that his backlog is often up-ended when storms blow through and damage or knock down trees. He said storm-damaged trees always get bumped to the top of his priority list because they're generally the most likely to cause property damage or injury if left unchecked.
Sturtz did say he was going to address the tree, however. "We're going to get to it; it's just going to take some time," he said.
Urban trees — particularly those near streets — are frequently exposed to elements that can result in the damage and rot some of the North Side trees are experiencing.
Andrew Pratt, Mill Creek MetroParks garden director and a certified arborist, said wounds caused by passing cars, lawn mowers or other abrasive elements can result in long-term decay issues in trees.
"Street trees typically have very short lives, usually around 15 years," Pratt said. "When a tree is wounded it tries to compartmentalize the decaying wood and heal itself. Sometimes it succeeds, but sometimes the decay wins."
Pratt explained that wounded trees also are more vulnerable to infestation from insects such as carpenter ants, but said that such infestations are usually the secondary cause of a tree's rot, with damage-related decay often the primary.
For individuals concerned with protecting their trees from damage, Pratt recommended using a limited amount of mulch to create a barrier between the tree and the surrounding grass — though he warned that people have a tendency to overmulch. That can prevent the tree from properly hydrating, so individuals should ensure that the base of the tree where it flares into the roots is visible. Pratt also said PVC pipe, plastic tree guards and small metal fences are often used in urban environments to protect trees, though neither of those are long-term options and are generally reserved for protecting younger trees.
City residents who believe a tree is dead and in need to removal can contact the parks and recreation office at 330-742-8711.
More like this from vindy.com