Red-hot Scrappers off to record start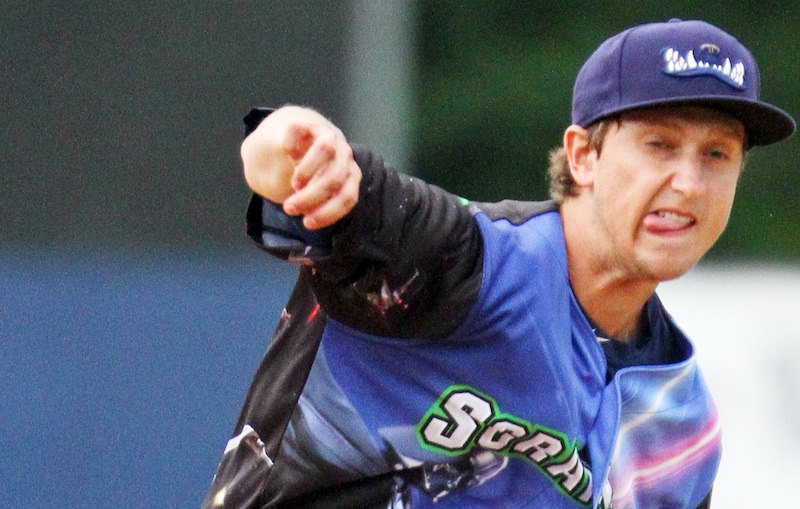 ---
Scrappers Doubledays June 22, 2018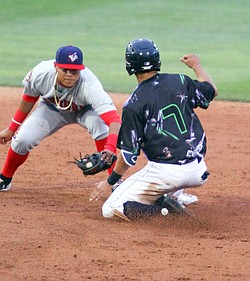 Gallery
Scrappers Doubledays June 22, 2018
By STEVE RUMAN
sports@vindy.com
NILES
Much to the chagrin of Mahoning Valley Scrappers manager Jim Pankovits, his team hadn't been able to put together a breakout inning and coast to victory, despite winning six of its first seven games.
On Friday, the Scrappers granted Pankovits his wish with a five-run fifth inning, and the result was a 10-7 home win over Auburn.
With the victory, the Scrappers upped their record to a New York-Penn League best 7-1. It marks the best start to a season in Scrappers history.
The game was played in front of 2,177 fans at Eastwood Field. Though threatening weather forced the cancellation of a post-game fireworks show, a pre-game shower gave way to clearing skies for most of the night.
The Star Wars-themed fireworks show has been rescheduled for July 7.
The Scrappers cruised to their latest win thanks in large part to power hitting. The fifth inning included two of the five Scrappers doubles, and also featured a three-run homer off the bat of Elvis Perez.
"We've been saying that it would be nice to get an early lead, or to get one of those innings where we really bust loose." Pankovits said. "This team isn't really built to have huge innings. We have some power but for the most part we're the type of team that will string together some base hits, move runners along, play for every run we get.
"It's nice when you can put together a big inning, it takes some heat off of the offense and the pitchers."
Like they have so many times this year, the Scrappers found themselves down in the first inning. Auburn leadoff hitter Gage Canning opened the game by belting a home run to right-center off Scrappers starter Cameron Mingo.
And like they have so many times this year, the Scrappers responded in the bottom of the first. Jose Fermin led off with a walk, then back-to-back singles loaded the bases. Fermin eventually scored when Angel Lopez was hit by a pitch.
The Scrappers scored a pair of second-inning runs, then added a run in the third before breaking things open in the fifth.
In all, the Scrappers knocked out 15 base hits, including six for extra bases.
Tyler Freeman (.433 batting average) went 3 for 5 and Perez (.522 batting average) went 2 for 5 with three RBIs.
Left fielder Hosea Nelson (3 for 5, 1 RBI, 1 run scored) was one of six Scrappers to have a multi-hit game. Nelson entered the contest 0 for 11 on the year.
"It felt good to finally get the monkey off my back," Nelson said. "As a hitter, you just try to take the same approach every night, but honestly it is strange when you're performing at a level you're not used to. It can wear on you.
"I just relied on all the work I've put in to this point, and tonight it paid off."
The Scrappers and Doubledays conclude their three-game series at 7:05 tonight.
More like this from vindy.com