Tran, Linder take titles at Mill Creek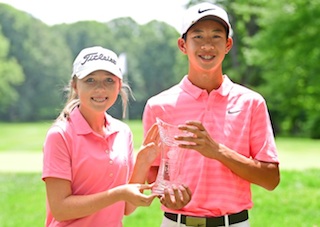 ---
By BRIAN DZENIS
bdzenis@vindy.com
BOARDMAN
Four birdies took Aidan Tran far away from the competition on Thursday at Mill Creek Golf Course.
The Fresno, Calif., native was 1-under in each of the first four holes, providing a launch pad to win the American Junior Golf Association's Mahoning Valley Hospital Foundation Junior All-Star in dominant fashion.
"I just made everything I looked at. I made a 45-foot putt on the third hole," Tran said. "That got everything going for the whole round. There was a lot of momentum there."
Tran shot a 65 to finished the three-day tournament 10-under par, nine strokes ahead of runner ups Papon Sawatyanon, Sean Curran and Sean-Karl Dobson. On the girls side of the tournament, Sophie Linder of Carthage, Tenn., overtook the leader for the previous two rounds — Thailand's Thitaporn Saithip — to win by one stroke.
It was the first AJGA victory for both winners.
"It's definitely so special," Linder said. "The AJGA is so special to me and to get a win means so much."
Tran was under par in every round of the All-Star, finishing with a combined score of 200, a tournament record. After the birdie quartet, he shot even through the rest of the front nine. After the turn, he bogeyed No. 10, got another birdie on the next hole and collected two more birdies on 15 and 18 and a bogey at 16. Across three days, he had only three bogeys.
"I developed a good strategy and it worked well. I just kept the ball in play and hit everything where I want it to go," Tran said. "I just didn't want to go too aggressive. Just stay out of the woods, hit short clubs off the tee and just do what I need to."
It's another trophy for a player who is a veteran of the sport who will high school this fall. On YouTube, there's a video with more than 13,300 views of him driving off the tee, chipping out of sand traps and sinking putts at the age of 3. At 4, a TV station in Fresno did a feature on him.
"I started golfing when I was very young and the local news did a story on me and they did a follow-up when I was 10," Tran said. "It was cool to be on the news."
Saithip held a two-stroke lead heading into the final round. Said lead went up in smoke when she double-bogeyed the par-3 No. 5 en route to a 2-over performance on the front nine. Linder was 1-under at the turn and her third birdie of the round on No. 14 was enough to win. Saithip also birdied No. 14 and like Linder, was even the rest of the back nine. She finished at 1-under 209.
"I knew I could come back and win it. I had full confidence in myself," Linder said. "I was only three shots behind on day one and there was still two more days left. I had confidence that I could win and I did.
"I hit the ball really well. I didn't putt all that great, but I was hitting toward the flag and getting par," she added. "I was feeling good about myself and it worked."
Among Ohio competitors, Fairview Park's Topher Reed was the top boys golfer, finishing tied for 11th place at 3-over. New Albany's Madison Spiess took 13th place at 13-over in the girls tournament.
More like this from vindy.com