School celebrates grandparents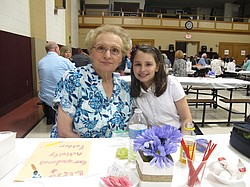 Photo
Neighbors | Zack Shively.St. Christine's School's Grandparents' Day began with mass followed by a small snack. Then, they visited the student's classrooms, had lunch and traveled to different areas of the school. Pictured are Fran and Lizzie Handel at lunch.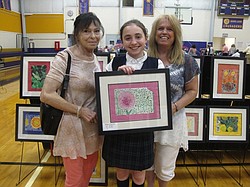 Photo
Neighbors | Zack Shively.St. Christine's School celebrated their annual Grandparents Day on May 4. They set up a series of activities for the grandparents and grandchildren to participate in and see, such as the art show in the gymnasium. Pictured, Leah Durkin showcased her art next to her grandparents Cheryl Durkin and Debbie Scurti.
By ZACK SHIVELY
St. Christine School invited grandparents to their school to spend the day with their grandchildren on May 4.
Jennifer DeLiso led the organization of the annual Grandparents' Day. The grandparents spent time in the classrooms with the students and teachers and time around the building with their grandchildren. The event spanned from 8:30 a.m. until 12:30 p.m.
"We want to thank the grandparents for their devotion," said principal Walter Carpenter. "They're the foundation of the family ... and the rock of our church and school."
The day began with a mass in the morning. From there, they had a small snack of doughnuts and coffee. They then went to the classrooms.
Each of the teachers had different activities planned for the grandparents. Each year, the teachers have a different theme for the event. This year, they used a Cinco de Mayo theme and had games and activities for the grandparents.
The school provided a lunch for the families in the school's cafeteria. The grandchildren got to eat with their grandparents.
The grandparents also had a number of activities to visit throughout the school. The school had a basket raffle and art show in the gymnasium and photo areas in Room A and in White Hall. The grandparents could buy framed student artwork.
The school also organized an area of the school to commemorate grandparents who have died, but are still in the hearts of students and the school.
The grandparents left after noon. More than 560 grandparents visited the event. The school has had this event toward the end of the school year for the past twelve years. Prior to that, they had the event on Grandparents Day in September.
More like this from vindy.com