Attorneys continue debate over Hoerig's admissions
By Ed Runyan
WARREN
Claudia Hoerig Interview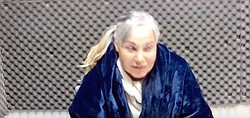 Video
Interview with Claudia Hoerig January 17, 2018 in Trumbull County Jail.
A videotaped interview at the Trumbull County Sheriff's Office Jan. 17, the night Claudia Hoerig was flown back to Ohio from Brazil, showed a charming and talkative woman confessing to killing her husband, Karl, in March 2007.
Claudia Hoerig, 53, who preferred to be called Cris, had just spent about nine hours on a plane with agents from the U.S. Marshal's Service and told them "out of nowhere" that "a woman doesn't kill her husband without a good reason."
She proceeded to talk about "the reasoning behind why she killed her husband," special agent Anthony Sano testified at a May 4 evidence suppression hearing in Trumbull County Common Pleas Court.
The unsolicited remarks, which were put in writing by Sano, were obtained legally, despite Hoerig having not been read her rights, prosecutors said in a new filing in Trumbull County Common Pleas Court.
Hoerig will be back in court at 10:30 a.m. today for another hearing in her case.
Her remarks can be used at trial because no reading of rights is necessary when a defendant offers them voluntarily, prosecutors said. The videotaped interview she gave later at the sheriff's office also was legal because detective Mike Yannucci of the sheriff's office read Hoerig her rights beforehand, the filing says.
She proceeded to describe shooting her husband to death in the head and back in their Newton Falls home. Hoerig said she was planning to kill herself, but her husband made remarks that upset her, so she killed him instead. She also told them her husband was abusive.
But the attorneys for Hoerig argue in their court filing that the comments should be suppressed at her Sept. 17 trial because the agents used "casual conversation" and "trickery" and "permitted [Hoerig] to dish up incriminating statements."
Hoerig fled to her native Brazil after her husband's death and lived there freely for about nine years before the Brazilian government stripped her of her Brazilian citizenship and put her in a Brazilian prison. She was released to U.S. officials 21 months later.
Hoerig's return culminated nearly 12 years of work by Trumbull County Prosecutor Dennis Watkins and others who persisted in asking for her return to Ohio despite Brazil's insistence that the country did not have to extradite Brazilian nationals accused of crimes in the United States. Karl Hoerig was a major in the United States Air Force Reserves who flew nearly 200 combat missions in Iraq and Afghanistan and also worked as a commercial pilot.
Attorneys Matt Pentz and David Rouzzo of the Ohio Public Defender's Office say Sano and other agents "initially misled [Hoerig] as to her true destination when taken into custody" in Brazil. The filing doesn't provide any other details on where Hoerig may have thought she was going.
The agents knew that Hoerig "had no criminal history and had never interacted with police," her attorneys said. "They knew [Hoerig] was a Brazilian national with no understanding of her constitutional rights."
Agents could have read Hoerig her rights when she was first placed into custody, the filing says. "Instead, agents simply sat back over a period of several hours, gained the defendant's trust through casual conversation" and listened to her remarks, defense counsel said.
The agents could have recorded the conversations during the flight, "but none of the five agents did. The recording would have provided this court and the parties with a complete understanding of what really occurred on that flight."
During an interview at the sheriff's office, Yannucci "exemplifies the careful and courteous approach taken by officers to ensure that [Hoerig] fully understood her constitutional rights," prosecutors said.
"We want to talk to you. Um, can we talk to you without a lawyer, which is your choice?" Yannucci asked.
"It doesn't matter to me. Either way," she said.
"So you're willing to talk to us without a lawyer?"
"Yes."
"And you're sure of that?"
"I have nothing to hide," Hoerig said.
More like this from vindy.com