Henry sets state shot put record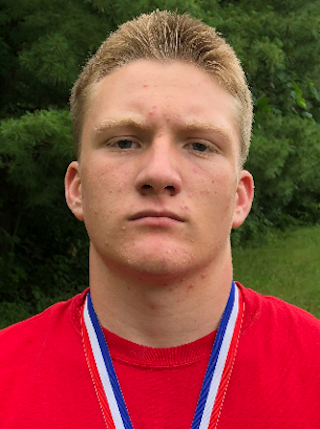 Photo
By BRIAN DZENIS
bdzenis@vindy.com
Ryan Henry already has his athletic career path thought out.
The incoming freshman at Western Reserve is breaking the precedent set by older brothers Matt and T.J. by forgoing Friday night football in the fall to train for his full-time passion: throwing shot put and discus.
"I just realized my potential for throwing. I loved the environment," Henry said. "I enjoy getting worked up, getting ready for my throw and getting hyped. I enjoy making everyone proud."
Henry has reason to be confident in his choice to specialize in track and field. He leaves middle school as the state's record holder for shot put.
On May 14 at the OHSAA 7th and 8th Grade State Track and Field Championship, Henry dominated the field while setting a new state record four times in one meet.
His first and shortest throw came at 51 feet, 1 inch — good enough to win the state title and break the original record of 50-6. His final throw of 56-11.50 is the new record for Ohio. Across the nation, only Nic Davis of North Platte, Neb., had a longer throw in Henry's grade at 57-04.
"It was my last throw in middle school. I was pretty hyped up," Henry said. "I wanted to make everyone proud of me. My brother T.J. did a lot of work coaching me and I wanted to make him proud."
T.J., two years out of high school, was a state qualifier his senior season, taking 11th at the state tournament while winning district and regional titles along the way. Matt is heading into his senior season with the Blue Devils after a regional tournament appearance last year.
"[T.J. says] 'just stay you. Anything's possible,'" Henry said. "You just give 100 percent to every throw and anything's possible."
Henry spent this past season throwing a shot that is about 17.6 pounds — the weight of varsity boys shot — to both prepare for high school competition and be stronger at the middle school level. The shot for middle school boys is the equivalent of the girls varsity shot, which is roughly 8.8 pounds.
As for projecting how his numbers play at the high school level, Ryan said he throws about 50 feet with the varsity shot. In Division III, 50 feet will get Ryan safely to Columbus with a chance at getting on the podium. He's right where T.J. was his senior season with his season best coming at 49-11.5 and slightly behind Matt, who entered the regional tournament at Massillon Perry with a seed throw of 51-1.50.
Before he has a chance to see if the projections pan out, he can enjoy putting on of the best track and field performances in the nation.
"It was awesome," Henry said. "All the work I put in finally paid off."
More like this from vindy.com