Four-run uprising carries Knightline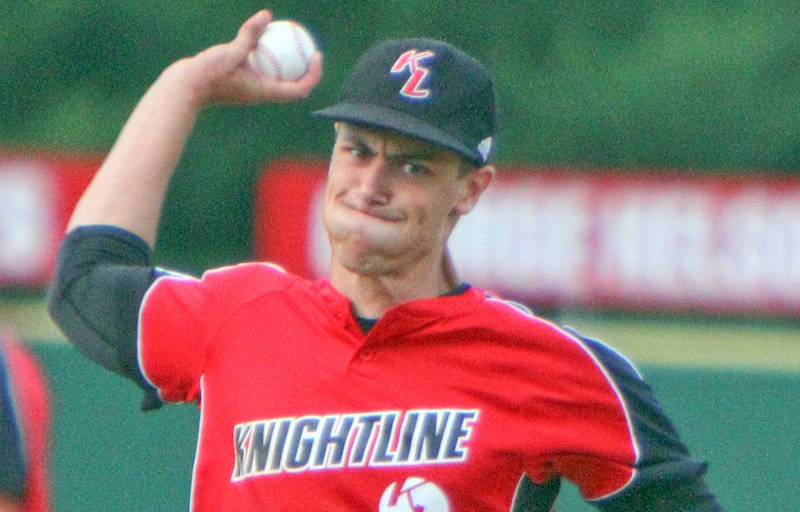 ---
Class B Baseball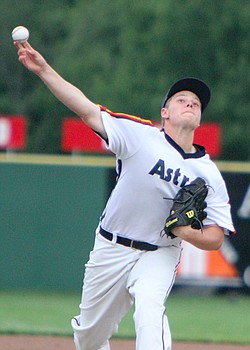 Gallery
Astro Falcons and Knight Line at Cene Park
By Dan Hiner
dhiner@vindy.com
Struthers
The 18-U Class B game between the Astro Falcons and Knightline at Cene Park came to an abrupt halt on Wednesday night.
Knightline's Kevin Pollock was hit in the head with a pitch during his at-bat in the sixth inning. Pollock remained face down for a few minutes before his coaches walked him over to the dugout.
Knightline head coach Tommy Otto said the pitch from Astro's Evan Jarvis caught the brim of Pollock's helmet before hitting him in the cheek.
Otto said Pollock's parents took him to the hospital to be evaluated, but the team doesn't expect any broken bones.
"Worst-case scenario, maybe a concussion," Otto said. "Best-case scenario, maybe he'll be back in a day or two. We'll just wait and see."
Knightline won 5-1 after scoring four runs in the top of the fourth inning. Knightline (10-3) strung together four consecutive RBI singles, the first by South Range's Ben Rivera.
"[Knightline's hitters] got deep in counts and worked a little bit," Otto said. "I think that the ability to identify his off-speed pitches allowed us to sit on the fastball a little bit more and gave us a better opportunity to clear the barrel and get a good piece on it."
The Astro Falcons (11-3) took the lead on an RBI double by Niles' Marco DeFalco in the bottom of the third. It was the only time Astro capitalized with runners in scoring position.
The Astro Falcons left seven runners on base — four in scoring position.
Kole Klasic drove in an insurance run on an RBI single up the middle in the fifth inning.
"Including the tournaments, I think [Klasic's] knocking on the door of .450, .500 ... somewhere in there," Otto said. "He's a very confident player right now."
Klasic, from Austintown Fitch, finished 3 for 4 with two RBIs. Anthony Cinicola and LaBrae's Colton Stoneman both went 2 for 4 with an RBI. Cinicola also scored twice.
Knightline pitcher Gunnar Boehm struck out 11 in a complete game. Boehm allowed one run on five hits and four walks.
"I know Astro's the best team in the league," Boehm said. "I just wanted to go out there and throw a good quality start, and it turns out I did."
Boehm kept batters off balance with his fastball and curveball. He limited Astro to two hits in the first four innings, enough time for his offense to break the game open.
"We're a good team. I felt like everyone in the dugout knew that we were going to come back eventually," Boehm said.
Astro Falcons starter Frank Craska allowed four runs on nine hits and a walk. Craska struck out four in five innings of work. Jarvis allowed a run on two hits and a walk in two innings of work.
Knightline has won seven straight games after Wednesday's win.
The loss marked the first time Astro has dropped two consecutive games this season. The Falcons lost 5-4 to Eagle Wear in the bottom of the seventh on Tuesday.
"These guys just play hard for each other, man," Otto said. "They come here every day. It's a group that's been together for three or four years now and they just get after it."
More like this from vindy.com