YSU students show youngsters importance of anthropology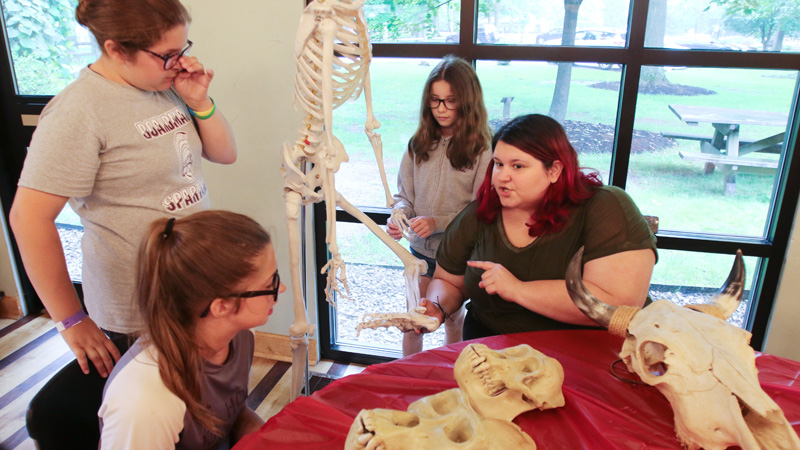 ---
By Sean Barron
BOARDMAN
Evelyn Breda is proud to have learned a lot from "Ken," even though her traveling companion has no skin and is all bones.
"My dad got me this skeleton to learn at home," the Youngstown State University senior and anthropology student said Wednesday with a chuckle. "I'm very fortunate to have parents who support what I'm studying."
Breda also gave "Ken" an opportunity to be a learning tool for five groups of youngsters who are in a Boardman Park Adventure Week camp and taking part in a variety of hands-on programs aimed at deepening their appreciation for anthropology and archaeology.
Hosting the event in the park's Georgianna Parker Center are students with the YSU Anthropology Colloquium.
The overarching idea also is to demonstrate the history of many of the artifacts, noted Karen McCallum, camp director.
"I hope the kids see how diverse the anthropology field is in encompassing history, biology and criminal justice, and that it encompasses so much more than just the science of it," said McCallum, who's also the park's recreation director.
"We hope to give everybody a taste of what we do," added Thomas Delvaux, a YSU anthropology professor. "We have artifacts that are thousands of years old."
Breda, the colloquium's president, also had on hand skulls that belonged to a cow, a gorilla and an orangutan and showed several children how much they can glean about the animals simply by observing the structure of their teeth.
Olivia Johnson, an archaeologist who graduated from YSU in December 2016, had in a display case numerous types of stone tools, many of which were used to make arrowheads and spear points.
Other finds included a drill piece that was used as an awl, a small-pointed tool typically used to pierce holes in leather and clothing.
"They needed tools just as we need tools, and they served the purpose," Johnson said about ancient Native American people.
Also of interest to the youngsters was a row of plastic replicas of skulls that Stephanie Waltman, a YSU anthropology major, had on display, including one said to be between 6 million and 7 million years old.
"I've learned how fascinating all these bones are and how people lived a while ago, and how much everything has gone up in technology," observed 11-year-old Brady Balestrino of Youngstown, a sixth-grader at Seaborn Elementary School in Mineral Ridge.
Also learning about different kinds of skulls and their connection to human evolution was Gianna D'Alesandro, a Glenwood Junior High School seventh-grader.
The camp wraps up Friday when the park's sand volleyball court will be converted to a makeshift excavation site. Participants will be able to dig for various gemstones and arrowheads, Delvaux said.
More like this from vindy.com