ICE detains 100 Salem workers; Sandusky detainees now in Youngstown prison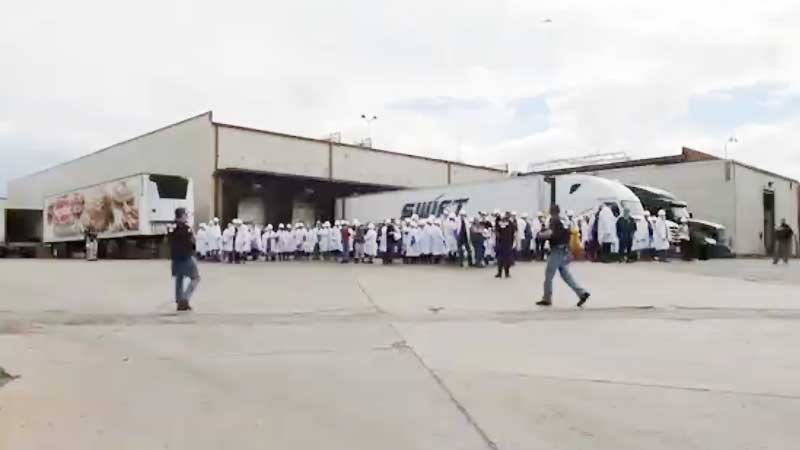 ---
By WILLIAM K. ALCORN AND JUSTIN WIER
news@vindy.com
Federal immigration agents filled at least two buses with detainees rounded up during a raid Tuesday at Fresh Mark meat processing plant in Salem.
According to a press release from and U.S. Immigration and Customs Enforcement and Homeland Security, agents identified more than 100 Fresh Mark employees working at the plant as undocumented immigrants.
Search warrants were also served at three other Fresh Mark plants, two in Massillon and one Canton.
The enforcement action was part of a year-long, ongoing Homeland Security Investigation, based on evidence that Fresh Mark may have knowingly hired undocumented immigrants at its facilities, and that many of them are using fraudulent identification belonging to United States citizens.
Other detainees rounded up by ICE agents earlier this month in Sandusky are now at a Youngstown's private prison.
In Salem, it was unknown Tuesday where they were being taken, and family and friends cried outside the gates wondering what was going to happen to themselves, their children and the detainees.
According to authorities they will be detained in facilities in Ohio and Michigan while awaiting removal proceedings.
A 24-hour toll-free locator hotline is available for family members of those arrested Tuesday to find out about their status. The hotline operates in English and Spanish. The number is 1-888-351-4024.
One woman who baby-sits for some of the Salem workers said she had two children of a couple who worked in the plant and did not know who would be responsible for them if their parents are detained for a lengthy period of time.
Another woman questioned how the agents could detain people who have work permits and identification.
"My God," one said: "Somebody put a stop to this."
A Vindicator reporter was told that all Hispanics were being taken away, even workers with proper documentation and permits for work.
The detainees are primarily from Guatemala and Mexico and had come here to work, not to cause problems, one woman waiting outside the plant said.
In February, ICE charged Miguel Lorenzo, a Guatemalan man who worked at the Salem Fresh Mark, with false claim to U.S. citizenship and aggravated identity theft.
A Fresh Mark employee told ICE agents that Lorenzo worked for the company under the name Omar Diaz, with a Social Security card and California identification corresponding to that name.
One employee said the agents came into the plant in early afternoon, carrying military-type weapons and separated the Americans, who were put back to work, and Hispanics, who were lined up and searched.
In the June 5 raid in Sandusky, ICE agents rounded up 114 workers at Corso's Flower and Garden Center, which has locations in both Sandusky and Castalia.
Some minors and U.S.-born workers caught up in the raid were subsequently released.
Khaalid Walls, an ICE spokesperson, confirmed that several of those detainees are currently at the Northeast Ohio Correctional Center on Hubbard Road in Youngstown.
The women detained in that raid were sent to a jail in Michigan, while the men were sent to the Youngstown prison.
The agency suspects those workers of illegally entering the country.
The raid, like other large-scale workplace sweeps carried out by ICE, became a national news story.
The ACLU urged Ohio's members of congress to protect the detainees from expedited deportation.
Last week, U.S. Rep. Tim Ryan of Howland, D-13th, wrote a letter to Homeland Security Secretary Kirstjen Nielsen, demanding due process, including access to an attorney for the detainees.
He also criticized ICE's methods.
"Reports suggest the raid was carried out in an unnecessarily aggressive and disruptive manner that subsequently traumatized an entire community," Ryan said.
He added that detainments and deportations that tear apart families often cause more trouble and expense than they prevent.
The comments echo those Ryan made when ICE detained downtown businessman Amer "Al" Adi Othman before his deportation to Jordan.
U.S. Rep. Marcy Kaptur, who represents the district where the raids took place, visited 30 women in the Michigan jail Monday to ensure they received proper legal representation.
Kaptur's communications director said she has no concrete plans to visit Youngstown, but her staff is working to get information and help out where they can.
Amanda Gilchrist, a spokeswoman for CoreCivic, which operates the Youngstown prison, said the influx has not affected operations there, and all detainees have full access to legal counsel.
"We take seriously the legal rights of every person in our care," Gilchrist said.
More like this from vindy.com