Team Bannon rides in tribute to Chuck Bannon who died of ALS at 44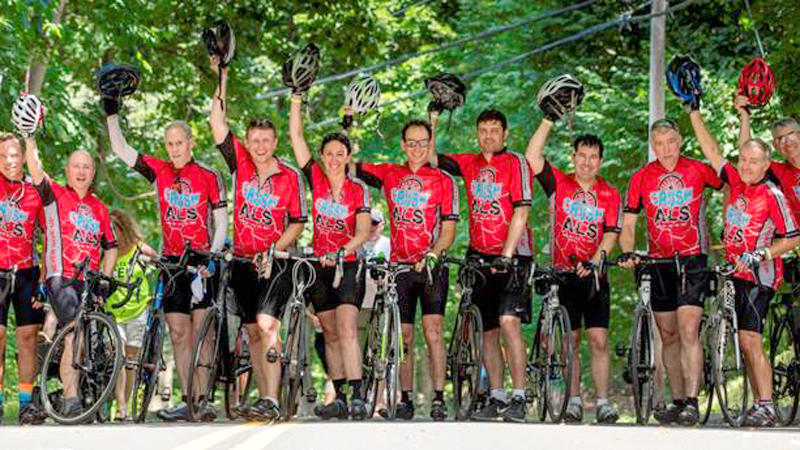 ---
YOUNGSTOWN
A three-day ride raising funds to fight ALS and paying tribute to Charles "Chuck" Bannon will take place Friday through Sunday, starting at Boston College in Chestnut Hill, Mass., and concluding in Greenwich, Conn.
Team Bannon/Crush ALS was started a decade ago by Breen Bannon of Youngstown; his sister, Lisa Bannon Steinmetz of New Jersey; and their sister-in-law, Elaine Bannon of Michigan. The team pays tribute to Charles — Breen's and Lisa's brother and Elaine's husband — by riding their bicycles in the 270-mile Tri-State Trek/ALS fundraising event.
Team Bannon is the all-time leading team for funds raised for the Tri-State Trek, and Team Bannon members are asking for the community's help in reaching the $1 million mark this year in the drive to help fund research to find a cure for amyotrophic lateral sclerosis (ALS), a progressive neurodegenerative disease that affects nerve cells in the brain and spinal cord.
Also known as Lou Gehrig's disease, ALS is the disease of which Chuck Bannon died on April 18, 2009, after a three-year battle.
He was a mechanical engineer at Ford Motor Co. and a competitive motorcycle road racer. He was 44.
Once diagnosed, victims usually live two to five years, said Breen.
Chuck was diagnosed at 41.
"This is our 10th anniversary ride of the Tri-State Trek in which we ride our bicycles 270 miles in three days to fight against ALS," he said.
"It's far, it's long, and it hurts," admitted Breen.
But, in an open letter to Team Bannon supporters, he said: "Over the years we have been encouraged ... by your support through your very generous contributions for the research laboratory we ride for, ALS- TDI (https://www.als.net). "It amazes me ... that this year, our 10th in case you missed that, we are broaching the $1 million mark of funds raised by our team. Simply amazing and unbelievable. This couldn't have been done without your faithful support. I can't say thank you enough," he wrote.
"I don't think my sister, Lisa, or I could have ever imagined we would still be riding or raising money 10 years after the passing of our brother Chuck to the devastating and dreadful disease named after Lou Gehrig.
"But, there is no cure yet ... nothing to soothe, nothing to prevent, nothing to cure those who suffer. So we ride some more ... we're not giving in just yet," Breen said.
"You have helped a lot over the past 10 years, and we are asking for your continued generous support again this year by donating to the Tri-State Trek," Breen wrote.
"It does help, we are making things happen, and eventually we will succeed," he said.
Contributions can be made online at https://tst.als.net/donate/bbannon or by mailing a check made out to Tri-State Trek in care of Breen Bannon, 3478 Bentwillow Lane, Youngstown, OH 44511.
More like this from vindy.com