OH WOW! wows campers with robotic surgical device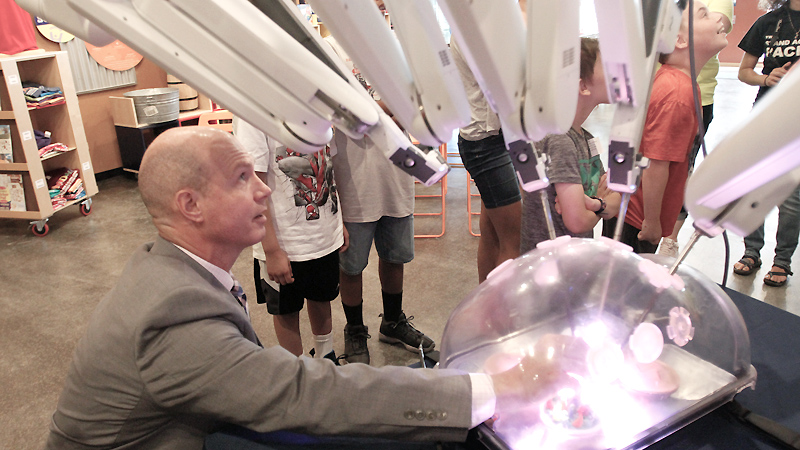 ---
By SEAN BARRON
news@vindy.com
YOUNGSTOWN
If grasping the beginning basics of surgery and technology could be compared to learning to ride a bicycle, you could say that 11-year-old twin brothers Joseph and Samuel Michel of Cranberry, Pa., are on the move.
"The most valuable thing I learned about the Da Vinci System is that I want to do everything with extreme precision and have fun," Samuel said about his introduction to the Da Vinci Surgical System, a sophisticated, state-of-the-art set of robotic machines designed to facilitate complicated surgeries with a minimally invasive approach.
The twins were among 10 youngsters entering grades four to six who came Monday morning to the opening day of the first of three one-week summer workshop camps based on technology at OH WOW! The Roger & Gloria Jones Children's Center for Science & Technology, 11 W. Federal St., downtown.
The inaugural camp, themed "Medical Manufacturing," will give participants an opportunity to develop in interest and explore careers in local manufacturing, better appreciate how such industries benefit the Mahoning Valley and further the youngsters' critical-thinking skills, said Suzanne Barbati, OH WOW's executive director.
"I'm thinking about going into robotics engineering when I get older," added Joseph, whose brother also aspires to reach the same goal.
The siblings likely got a good start toward achieving their career aspirations after having gotten acquainted with the Da Vinci System, which allowed the youngsters to manipulate a set of controls while looking through a 3-D viewfinder that displays the same images projected on a nearby mounted touch screen.
"We wanted to expose them to the kind of latest medical technology that's out there, and we wanted them to think a little bit about design considerations and engineering," noted Ryan Ward, senior clinical sales representative for Sunnyvale, Calif.-based Intuitive Surgical Inc., which manufactures the system.
Da Vinci also gave the children a sense of how to move their hands in precise ways, much as doctors must while performing intricate surgeries.
The campers also have been tasked with using their technological acumen to build a prosthetic leg.
As a first step, they were challenged at OH WOW! to use recycled paper, frozen-snack sticks, rubber bands and other material attached to cups to hold plastic golf balls. The object was to place the balls into another, higher plastic cup without touching a table between them and the elevated cup, noted Mr. Ralf, , an "edutainer" (educator and entertainer) for the center who also performs scientific experiments.
The challenge, which Mr. Ralf referred to as a form of adaptive technology, also was to show the youngsters that seemingly simple tasks many people take for granted can be complicated for those who are forced to make certain adaptations and modifications, which is the reality for many people who have to wear prosthetic devices.
Another valuable lesson for camp participants is that they realize "failure is part of the process, not the end," Barbati added.
More like this from vindy.com