TRACK Jahniya Bowers East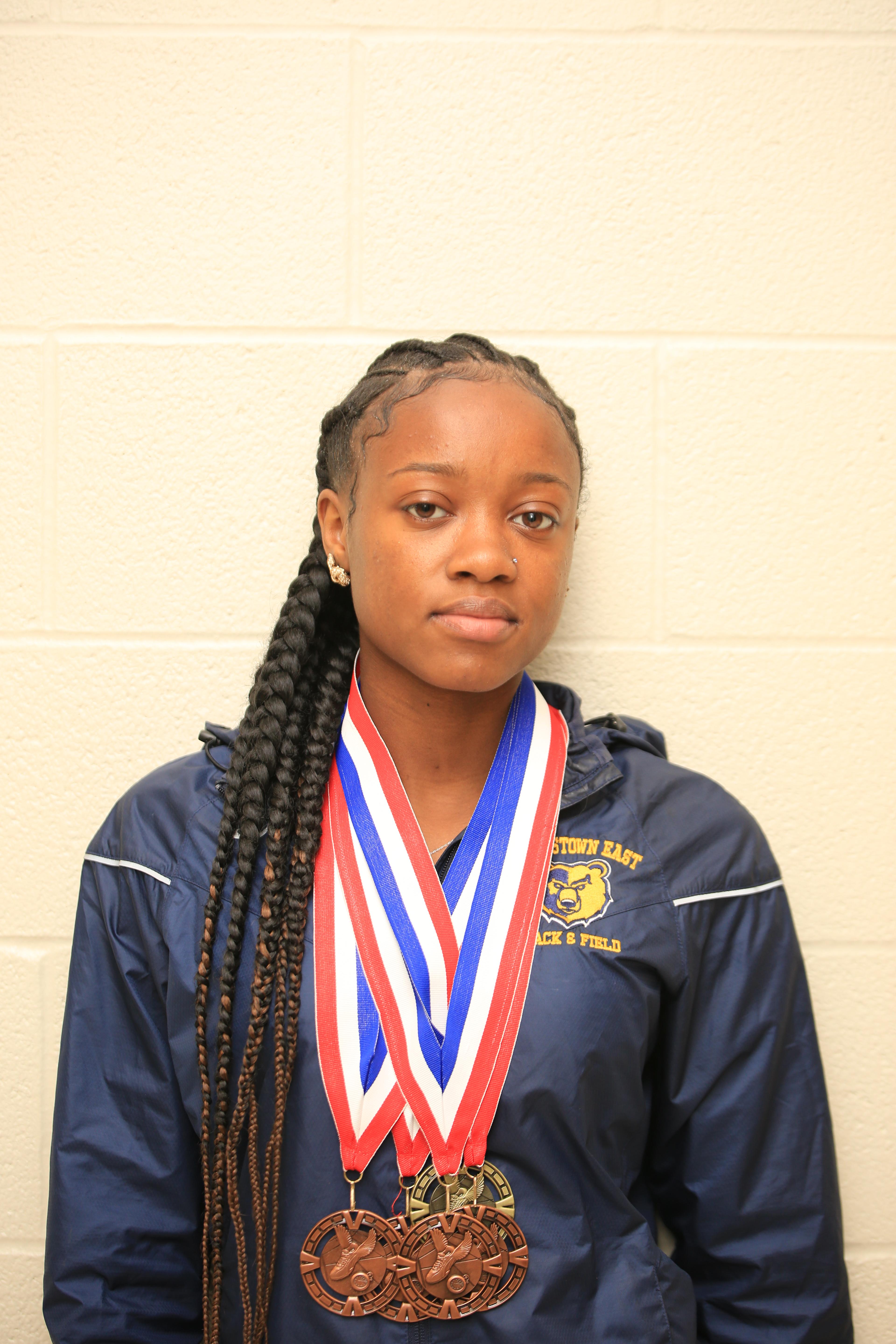 ---
East sprinter Jahniya Bowers made state as a sophomore in 2017, but didn't place.
She worked the entire year to learn and improve, hoping for another shot as a junior.
Bowers helped the Golden Bears' 4x200 and 4x100 relay teams place second in the Division I state meet in Columbus.
The 4x200 finished with a time of 1:41.46 while the 4x100 ran 47.54.
"[The 4x100] was very competitive because when I got the baton, everybody was right there," Bowers said. "I knew I had to break the stagger, catch and make sure my team was in a good enough place to come in [second] place."
Individually, Bowers came in fifth in the 100, finishing with a time of 12.24.
"Overall, I think I did [well]," Bowers said. "I qualified, so it was OK."
She also ran the 200 but came in 11th, missing out on the finals by two spots.
Bowers entered the 2018 state meet with a different mindset. She wanted to be better and focused on improving.
"My mindset was I got to be better than last year," Bowers said. "I can't let what happened last year affect this year ... go in, work hard and go where I got to go."
The 4x100 team won the regional at Austintown Fitch, setting a school record with a time of 47.76 seconds.
Bowers also won the 100 at Fitch, running 11.81 to qualify for state
East head coach Kevin Cylar said Bowers is aware that Dublin Coffman sprinter Abby Steiner is a "once in a generation" runner. Steiner, a senior, won the girls 100 and 200 in Columbus.
Cylar said Bowers wants to take the top spot next season as Steiner is moving on to college. He also said Bowers won't rest until she wins the triple crown — winning the 100, 200 and the 4x100.
The improvement started during the football season. Cylar said Bowers bought into the team's weight lifting program which started in the fall.
"When everyone's good, you have to have that extra edge, and she knew that weight lifting was that extra edge," Cylar said. "She put her heart into it and that's why you saw the results you did."
— Dan Hiner
More like this from vindy.com