FIELD Izzy Kline Newton Falls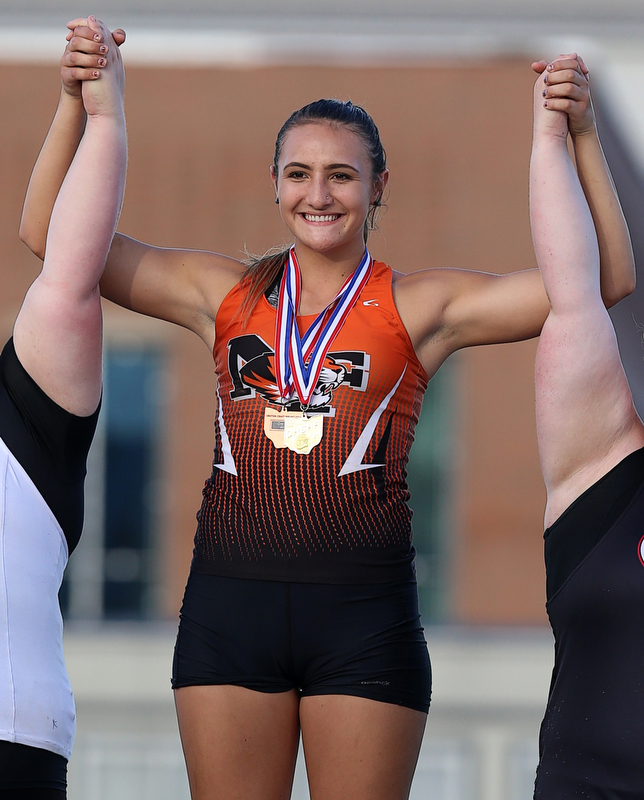 ---
Izzy Kline was favored to win a state title in the shot put and expected to do well in the discus this spring, but she showed she can do more.
The senior from Newton Falls lived up to expectations by winning the state title in the shot put — doing so while competing in the high jump at the same time — and took fourth in the discus.
"I thought it was going to be [hard switching back and forth]," Kline said. "I was nervous at first, but once I realized that I do better with the adrenaline, I wasn't too worried about it."
Kline finished 10th in the high jump, but that doesn't quite tell the whole story of what she did on June 1.
All of the track facilities for the state tournament are not in one location. While the high jump is located inside Jesse Owens Memorial Stadium, the shot put and discus are held on a field across the street from the stadium, which had Kline on the move that afternoon.
She cleared a personal-best five feet, three inches and took one attempt at 5-4 before bowing out when it became too difficult to do both competitions at the same time.
The height that she cleared tied United's Camryn Jarrett for the highest mark by an area female high jumper in this year's tournament. If she could have kept going in the high jump, it was very likely that she'd get on the podium.
"Someone took an action shot of me and I was clear over the bar, I just couldn't get my legs over," Kline said.
To add on to her feats, she practiced once in the high jump on the day before the regional tournament this year. Her coaches pitched the idea of adding the event to her repertoire as a way to get more points out of the multi-sport athlete.
"It was challenging because I didn't really know what I was doing, but I thought it was fun," Kline said. "I was just a thrower, so I took it as an icing on the cake."
Kline's winning throw in the shot put was her last one at 44-3, which was three inches further than runner-up Grace Rigel of Leipsic. In the discus, her best throw came at 130-1.
A standout in volleyball and basketball, Kline is signed to continue her track career at Cincinnati.
More like this from vindy.com