VINDICATOR'S 2017-18 ATHLETES OF YEAR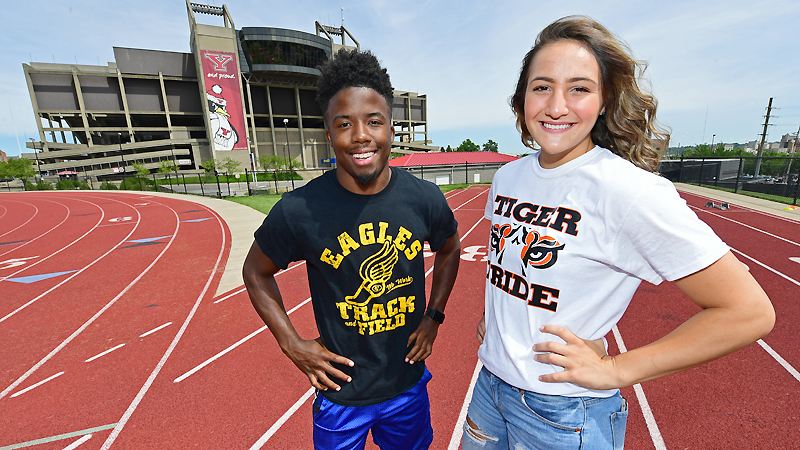 ---
The Vindicator today announces its winners of the male and female athletes of the year award for the 2017-18 academic year.
The two stories below focus on those winners: Jamynk Jackson of Valley Christian School and Izzy Kline of Newton Falls High School.
MALE ATHLETE OF THE YEAR
By TOM WILLIAMS
williams@vindy.com
YOUNGSTOWN
During a very busy
varsity career at Valley Christian, Jamynk Jackson saved his best for last.
The Vindicator Male Athlete of the Year earned four varsity letters in football where he played slot receiver on offense and defensive back on the other side of the ball.
Jackson was the Eagles' point guard for four seasons even though he didn't start playing organized basketball until he was in junior high at Volney Rogers.
Jackson then capped his athletic career by running track for the first time.
Dolph Carroll, Jackson's basketball coach, saw his potential as a sprinter.
"He's been trying to get me to run track since my freshman year," Jackson said.
The difference this year?
The excitement of "trying something new and getting ready for the next season of football," Jackson said.
For the state track meet, Jackson qualified in four events (100, 200, 4x100, 4x200). He came home from Columbus with two first-place medals (200, 4x200) and a second-place medal (4x100). (His teammates on the relay teams were Brandon Paige, Lohron Brown and Terrance White.)
Jackson did so well that he now has a big decision to make. Should he attend Milford Academy in New Berlin, N.Y., to prepare for college football the following year or should he accept a track scholarship? Jackson has an offer from Lake Erie College in Painesville and is waiting to see if any more materialize.
His favorite sport is football. Last fall, the Eagles went 5-5 but qualified for the Division VII, Region 25 playoffs.
Jackson's top moment came on Sept. 29 at Garrettsville, where the Eagles defeated Garfield 37-34 in double-overtime. Jackson caught three touchdown passes from Marcus Roman and finished with six receptions for around 200 yards.
"Jamyck was a huge asset to our team," Valley Christian co-head coach Jeff Hether said. "He wanted to do anything to help.
"He would play any position we asked him to just to help us win, a great team player and a very talented young man," Hether said.
Jackson credited his senior class for stepping up.
"Our senior class was different," he said. "We took responsibility, we made people accountable so if anybody did wrong, we were on top of it."
The Eagles' season ended with a 37-7 loss to East Canton.
In basketball, the goal was to win the Div. IV Struthers district tournament but in the semifinals, East Canton ousted Valley Christian. Jackson said it was the second straight year they lost in the semifinals by the same score, 52-50.
"And [both] ended on a buzzer-beater," he said. "That's why when we ran against [East Canton] in track we [tried] to demolish them. They beat us one time then we came out and destroyed them."
Because of his speed, Jackson was certain he'd run the 100 and 4x100. After the Eagles' first meet, head coach Monica Perkins shook things up and created a new 4x200 quartet.
At the Division III regional meet at Massillon Perry, the Eagles barely qualified for state in the 4x200 after a bad hand-off. They finished fourth. Finishing first was East Canton.
Things were different in Columbus. This time, the Eagles won in 1:29.84, just ahead of Liberty-Benton (1:30.06) and East Canton (1:30.12).
Jackson's closest race was the 200. He ran it in 21.9010, just ahead of Centerberg's Tyler Boales (21.905) and Wellsville's Justin Wright (21.98).
Jackson admitted he wasn't sure he had won when the race ended.
"I really didn't because the times were so close, it required a [photo finish]. So way after the [race ended], I was just looking up at the board, then they showed my time.
"I was just excited, ready to get on the podium."
Jackson will never forget what he experienced in Columbus.
"Wonderful atmosphere," he said. "So many people, it was loud. And to see yourself up on a big screen, standing on the podium, everyone looking at you, clapping, smiling, everybody taking picture of us — it was terrific."
So was his senior year.
FEMALE ATHLETE OF YEAR
By BRIAN DZENIS
bdzenis@vindy.com
newton falls
Whatever Izzy
Kline tried, she succeeded.
The Newton Falls senior cemented her status as one of her school's greatest athletes this year, being not only the best player on her team, but the best in the area and beyond across volleyball, girls basketball and track and field. If there is anyone wishing to follow her path, her mantra is simple.
"Just go for it. The way I look at it, when people are questioning if they should go out for something, I've always heard people say they regret not going, but I've never heard somebody saying they regret going out," Kline said. "You never realize how much fun you can have with it. It keeps you in shape and there's so much you can learn."
Kline learned plenty in becoming The Vindicator Female Athlete of the Year.
This spring, she capped her career (12 varsity letters) at the top of the podium in the shot put in the state track and field tournament. She also had a fourth-place finish in the discus and a 10th-place finish in the high jump.
What's worth noting about her time in Columbus is she won that shot put title while competing in the high jump simultaneously. While she had to bow out of the high jump to finish her pursuit of a shot put title, the personal best she set tied for the best high jump performance by a female in this year's tournament.
"Considering I haven't won a state title in any other sport, it's definitely the most memorable thing I've done at Newton Falls," Kline said. "I've been working toward it since I've made state my sophomore year.
"It's been a long time."
The big spring came after stellar fall and winter seasons. The Tigers volleyball team (15-7) won the All-American Conference Blue Tier as Kline was the her tier's Player of the Year.
When it came time for basketball season, her achievements took on a more personal note. Averaging 19.9 points, 12.5 rebounds, 4.1 assists and four steals a game, Kline led the Tigers to an 18-8 record and a district title. She's been part of every district title-winning team in Newton Falls girls basketball history, with the school's first title coming during her sophomore year.
Kline surpassed her older sister, Gabby Kline, as the program's all-time leading scorer. Gabby is two years ahead of Izzy.
"Since we were so similar in age, we both pushed each other in everything we did. It was always a competition between us," Kline said. "I had a lot to chase with her records."
With 1,604 points in her career, she's the school's highest scoring basketball player regardless of gender.
She's also the program's all-time leading rebounder with 984 boards and holds the records for most steals and most rebounds in a game.
Izzy and Gabby aren't the only athletes in the family. Izzy's mother, Tonya, was state qualifier in the long jump for Jackson-Milton and played basketball in college . Her father, Kenneth, played basketball and ran track. She has four brothers.
As a college recruit, Kline had offers — few that were Division I — coming in since her sophomore year. She went with Division II Malone for basketball and track, but her stock had a sharp rise after the track state tournament her junior year.
After she finished state runner-up in the shot put to East Liverpool's Lindsay Baker, more Div. I offers came her way. She ended up signing with Cincinnati.
"I was already committed [to Malone], but I hadn't signed," Kline said. "All these calls were coming in and I had to consider it."
After being a renaissance woman at Newton Falls, Kline looks forward to being a one-sport athlete for the Bearcats. That's what she got for just going for it.
"The work that you put in is what you get out," Kline said. "I would have never thought some of these things in sports that have happened to me would have."
More like this from vindy.com