Beautiful ukuleles painted by four Mahoning Valley students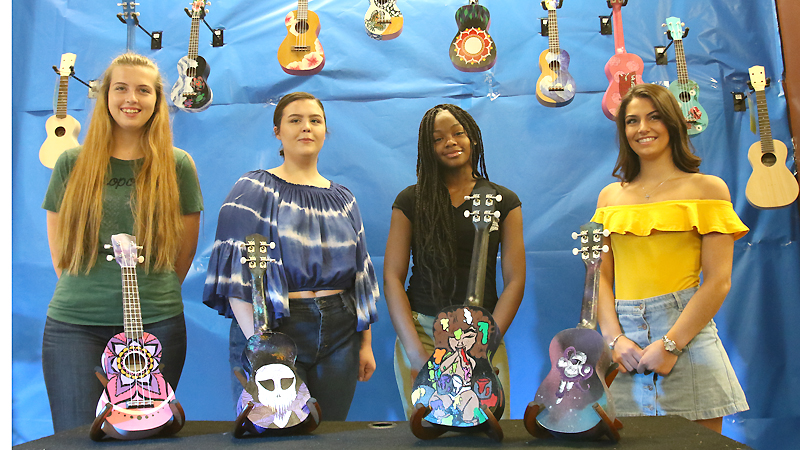 ---
By SAMANTHA PHILLIPS
sphillips@vindy.com
NILES
The Hubbard Music store in the Eastwood Mall has unveiled 12 beautiful ukuleles that were painted by four Mahoning Valley students.
Taylor Begeot and Hannah Best of Hubbard High School, Alissa Rodgers of Lakeview High and Zion Jones of Liberty High were selected for the ukulele decoration project.
The art teachers who nominated them are Josh MacMillan of Hubbard, Jeff Piper of Lakeview and Sarah Frank of Liberty.
"It makes you proud to have students who are go-getters" Piper said.
MacMillan added the project gave students a real world application to use the skills they've learned.
The students were given three wooden ukuleles and the freedom to design them any way they wanted.
Hubbard Music owner Mark Tirabassi started the project to highlight local talent and sell uniquely designed ukuleles.
"I had expectations but I was blown away by how creative you are," Tirabassi told the students.
Each student kept one of their ukuleles, and the other nine instruments will be sold by the store. The shop will sell the raw ukulele without a layer of clear coat for $59.99 or customers can add the coat and other finishings for $79.99.
One of Begeot's ukuleles had a design with brains on the front, and on the back more brains and a closet with skeletons coming out. Another had an astronaut catching jellyfish with a net, and an astronaut wrapped up in octopus tentacles.
"I figured with ukuleles you usually think of flowers and Hawaiian themes, so I wanted to try something different," she said.
Her grandfather, Tom Begeot, plans on buying one and said, "My sweetie did a great job. I'm proud of her."
Jones, who wants to have an art career some day, said the project was a challenge because she normally draws rather than paints. One of her ukuleles featured a yellow butterfly, and another had a baby surrounded by buckets of paint with the words "Be you" on the side.
Her mother, Monica Jones, said she was proud of her daughter and thanked her art teacher, noting, "It's a powerful thing when a teacher can see that gift in a student."
Tirabassi said in the future he would like to expand the project to more schools and try different instruments as canvases.
More like this from vindy.com