Student volunteers at senior living facility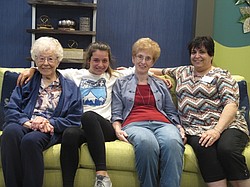 Photo
Neighbors | Zack Shively.Middle school student Hannah Masucci has begun spending time volunteering at The Inn at the Poland Way senior living center. She began in March after an emotionally difficult year in school. She volunteered as a way to bring positivity in her life. She has been a big help to the facility. Pictured, Hannah sat with activities director Kathy Boosinger and two of the residents.
By ZACK SHIVELY
A student at Poland Middle School has found her place in the community through helping others at The Inn at the Poland Way senior living facility.
Hannah Masucci began volunteering her time at the facility on March 10. Since then, she has helped with daily tasks with the residents and at some of the building's larger events.
"I like to help out," said Masucci. She has also helped her father, principal of Union Elementary Michael Masucci, at the elementary school with some of the events that they put on at the school.
She first began to volunteer after a rough year in middle school. She said that while she has great teachers and friends, she still had some difficult times and would occasionally come home crying. She wanted to turn her negative feelings into positive action through volunteer work.
She has felt natural helping at the The Inn at the Poland Way because she enjoys spending time with older people. Her father said that she will sometimes spend hours with their older neighbor, who has been like a grandfather to her.
"It's important to see her happy," said Michael Masucci. He said that her work here has made him and his wife very proud of their daughter, to which Hannah said that the experience has made her proud of herself.
She said she often plays bingo and occasionally watches movies with the residents. She volunteered at the building's special events for the Kentucky Derby and Easter, where she played games and did activities with the residents.
"The residents brighten up. They love seeing young people," said Kathy Boosinger, the activities director with the facility. Masucci's time has given the residents a younger person to talk to in addition to being a big help to Boosinger.
Masucci usually volunteers twice a week, once during the week and again on Saturday. She has loved spending time at the facility and would like to see other students get involved as well. She plans to continue volunteering, saying that she looks forward to spending time talking with them on the patio during the summer.
More like this from vindy.com