Seventh-grader presents and signs her book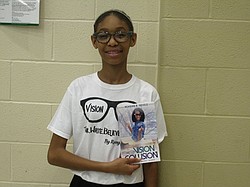 Photo
Neighbors | Zack Shively.Reagan Nevels, seventh-grade student at Austintown Middle School, gave a presentation on the book she wrote, "Vision Collision," in the school's cafetorium on May 22. Pictured, Nevels heldsher book and wores her shirt.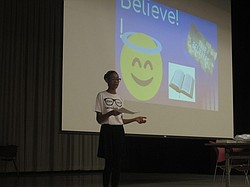 Photo
Neighbors | Zack Shively.Reagan Nevels presented on her book and outlined three key principles for accomplishing goals: think, write, believe and achieve. Nevels gave her talk three times during the school day for each grade at the middle school. She then presented again at night and sold the book and T-shirts.
By ZACK SHIVELY
A seventh-grade student author gave a presentation on her book and her experience on May 22 at Austintown Middle School.
Reagan Nevels, a student at the middle school, presented about what she believes are the four principles one needs to succeed. She published her book "Vision Collision" earlier this year.
She outlined her concepts for success. First, people need to think about what they want to give to the world. Second, they need to write what they want to accomplish. She also suggested making a vision board of images and writings to motivate.
Third, people need to believe that they will reach their goal. She said to remain positive, using the example of Gabby Douglas beginning her life in an underprivileged environment and moving on to become an Olympic medalist. Lastly, people have to go out and achieve their goals.
She listed details for each of the principles during her presentation. She gave her talk in the school's cafetorium while a projection screen down to display her slideshow.
She gave the presentation to all of the students in the school throughout the day. At night, she hosted a book signing after giving the speech again. She also presents at other schools and other locations in the area.
She began her journey in book writing during a Church of God and Christ convention in July last of year. The program and author Lawanne S. Grant sponsored a book writing competition and Nevels chose to participate.
More like this from vindy.com