Fitch showcases their new Purple Star Room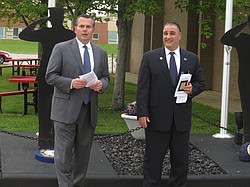 Photo
Neighbors | Zack Shively.Fitch high school had a dedication ceremony for the opening of their Purple Star Room by the Veteran's Memorial in front of the school. The school has been certified as Purple Star School by the ODE, meaning they have been recognized for their efforts in helping local veterans.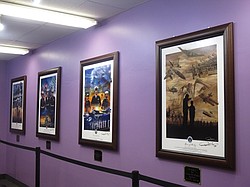 Photo
Neighbors | Zack Shively.Ray Simon's paintings hang in Fitch's Purple Star Room, a room dedicated to military veterans and students with military families. The painting commemorate the military. The room will also allow students with loved ones in the military to video chat with them.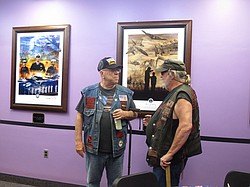 Photo
Neighbors | Zack Shively.Austintown Fitch High School opened their Purple Star Room for a dedication on May 15. The room gives the school space for military events and for students with military families to spend time.
By ZACK SHIVELY
Austintown Fitch High School celebrated the opening of their Purple Star Room on May 15 with school officials and local veterans.
The Purple Star Room gives a space for students with family in the military to decompress and a room for the district to have military-related events for the community's veterans. The room is named for the Purple Star Award, a recent recognition that the Ohio Department of Education awarded to the school for being a military-friendly school.
"It's not about the recognition, it's about helping kids," said Junior Principal Jim Penk.
Local veterans met in the school to see the new room. The school provided light snacks for the group. The school also had a dedication in the front of the school at the Veteran's Memorial.
The students with family in the military, known as their Purple Star Students, will have the opportunity to have a video chat with a loved one currently serving overseas, receive counseling or to find comfort during the school day. The school has approximately 30 students with military families, and the district overall has between 50 and 80 in any given year.
Fitch has a Purple Star Committee dedicated to meeting the needs of the Purple Star Students. The committee includes principals Chris Berni and Penk, Community Engagement Specialist Brittany Bueno, bus drivers Cynthia Clemens and Nicole Morrison, bus aide Krystal Clemens, teacher Kristen O'Neil, paraprofessional Laura Haupt, former board member Ken Jakubec and community member Leo Connelly.
Jakubec noted that Fitch is listed as one of three examples on the ODE's official website for Purple Star Schools. The school has numerous veteran events during the school year, such as the veteran lunch and a Veteran's Day assembly.
The room also features artwork from Ray Simon that commemorates the military and those who serve. The painting donors include Denise and John York, Walter Terlecky, Joseph E. Lane, Fitch Class of 1962, Greenwood Chevrolet, Karlock Podiatry and Associates, Betras, Kopp & Harshman and Lawrence and Dolores Ronzi.
More like this from vindy.com