Elder Awareness Day puts spotlight on caring for senior citizens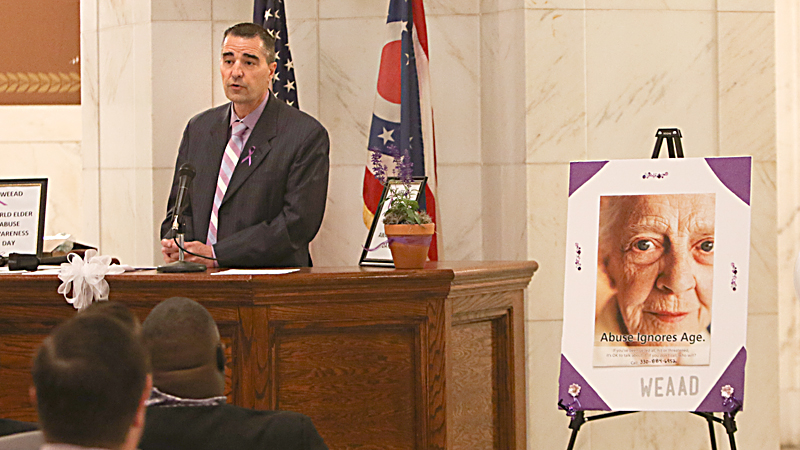 ---
By SEAN BARRON
news@vindy.com
YOUNGSTOWN
Judge Robert N. Rusu of Mahoning County Probate Court recalled an incident several years ago in which a suspicious man claiming to be a bed salesman was at his 90-year-old grandfather's apartment.
In reality, however, the man had no intention of making his grandfather's sleep more comfortable. Instead, the stranger had a warrant for his arrest – and a loaded firearm in his vehicle.
"He was there likely to get my grandfather's financial information," at the same time the relative was experiencing a memory decline, Judge Rusu said.
His grandfather's situation turned out well, but many older adults aren't so fortunate, the judge said during his keynote presentation for an event Friday afternoon in the Mahoning County Courthouse rotunda that was part of World Elder Abuse Awareness Day, which is every June 15.
The Mahoning County Adult Protective Services agency sponsored the one-hour gathering.
Judge Rusu then recalled an elderly woman who suffered from numerous bedsores and other signs of neglect before she died, largely because her son, who also acted as her caregiver, ignored her needs.
"We need to do better to stop this abuse before it happens," the judge said, noting the majority of such abuse incidents go unreported mainly because victims feel embarrassed and ashamed or are reluctant to expose family members or caregivers to legal action.
Judge Rusu advised his audience of about 150 law-enforcement personnel, elected officials, senior advocates and others to pay attention to loved ones' memory losses, call and visit as often as possible, discuss financial affairs and further educate themselves regarding resources and ways to properly care for elderly people.
He also noted the population of those age 60 and older is expected to double over the next 30 years.
The problem extends far beyond the Mahoning Valley, and elder abuse awareness day is essential mainly because more than 5 million cases were reported worldwide in 2016, noted Krishmu Shipmon, APS' administrator.
Calling elder abuse "a silent epidemic and something we all need to take ownership of," Lisa Solley noted a National Institutes of Health study showed that for every reported abuse case about 13 go unreported.
"Society is measured by how we treat not just our children, but our elderly population," said Solley, communications director with the Area Agency on Aging 11.
Making additional remarks were Youngstown Councilman Nate Pinkard, D-3rd; Commissioner Carol Rimedio-Righetti; and representatives for Gov. John Kasich, U.S. Sen. Sherrod Brown, D-Cleveland, and U.S. Rep. Tim Ryan of Howland, D-13th.
More like this from vindy.com