Austintown optician retires after 58 years in the business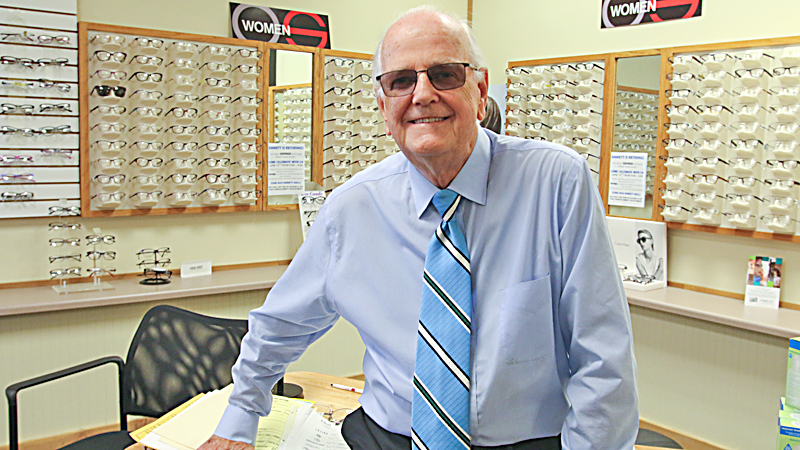 ---
By JORDYN GRZELEWSKI
jgrzelewski@vindy.com
AUSTINTOWN
In the 29 years she worked with Emmett Woodrum, Sue Moran, co-owner of Optical Solutions on Mahoning Avenue, frequently saw the effect he had on customers.
"You could have maybe 20 patients a day and 18 would stand in line waiting for him," she said. "He just has that pull to him."
Staff members and customers celebrated Woodrum on Friday, as the 81-year-old Youngstown man prepares to retire after 58 years in the field of opticianry.
Woodrum got his start in the profession as a lens grinder for a company in Columbus, where he grew up.
Woodrum climbed up the ranks of his field, and eventually became a licensed optician. His job took him to Cleveland, then to Youngstown.
He's worked for Optical Solutions and its predecessor for a combined 38 years.
Over the years, Woodrum earned a reputation for being a hard-working employee.
A perfect illustration of his dedication to his job occurred one day when the store was slammed with customers, Moran recalled.
Woodrum was never one to take a lunch, but he took a few minutes to drive to a convenience store to get gas, she said. Woodrum hurried back to the store to get back to work. Later, the convenience store called. He had left his car running at a gas pump.
Woodrum also earned the love of customers and co-workers alike.
"He's awesome," Moran said tearfully. "He is a gentle soul. He is the most faithful person I know."
"Whatever great words you can find, it's him," she added.
To celebrate Woodrum and his retirement, Optical Solutions hosted an all-day event Friday featuring a 50/50 raffle benefiting his favorite charity, Disabled American Veterans, giveaways and a trunk show.
Attendees were invited to answer "fun facts" about Emmett. The facts included how many years he's been an optician (58) and how many years he's been married (55).
Moran said the staff hopes Woodrum enjoys his retirement, and that he might still be at the store from time to time.
Woodrum said his job treated him well.
"I've enjoyed being around people all these years, and I've enjoyed giving the best service I could offer," he said.
More like this from vindy.com