Greatest Golfer of the Valley junior qualifier at Trumbull Country Club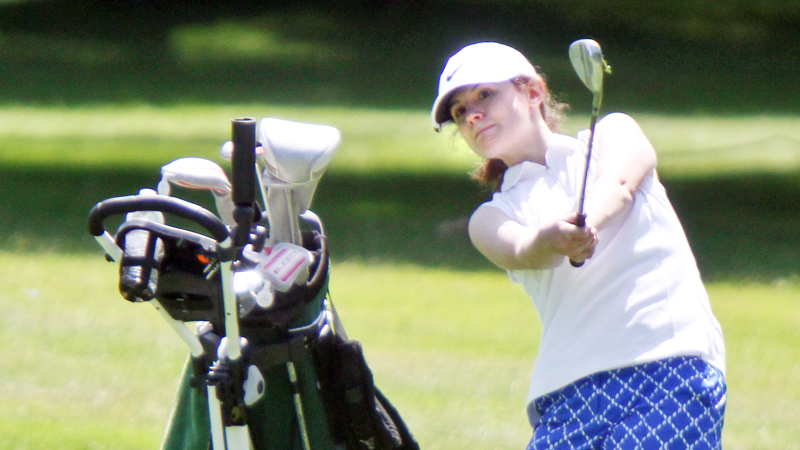 ---
By GREG GULAS
sports@vindy.com
WARREN
Boardman High School golf standout Cole Christman shot a sizzling 2-under par 68 Thursday in a Greatest Golfer of the Valley junior qualifier at Trumbull Country Club.
Christman became the second 17-and-under boys qualifier for the junior final on July 20 at Squaw Creek and July 21 at Avalon Lakes.
Canfield's Hannah Keffler shot an 80 to win the 17-and-under girls division, McDonald eighth-grader Caleb Domitrovich had an 84 in the boys 14-and-under division and Alexandra Petrochko of Avalon Lakes finished with an 82 in the girls 14-and-under division.
Six qualifying events lead up to this year's championships. The next qualifier is Tuesday at Avalon Lakes.
Christman, who carded 32 on the front nine and 36 on the back, could have authored an even better round had he not bogeyed his final three holes.
"I missed two putts, both under five feet on No. 17 and 18 but aside from that, I felt like my putting was pretty good," he said. "I've played this course many times so that was a big advantage for me.
"My iron play was solid and I also chipped well. I really felt like I made the best of my putting opportunities."
Dean Austalosh of Oak Tree Country Club shot even-par 70 to finish runner-up to Christman while Jimmy Graham, one of two Trumbull Country Club entries, finished third with a 73.
Austalosh's 33 was the best of all four divisions on the back nine.
"Chipping and putting were the two main components for me today and that pretty much kept me even," Austalosh said. "I didn't start off like I wanted to, pull-hooking, but I made a quick back-swing adjustment so I wouldn't pull back as much."
Graham finished with a 35 after posting 38 on the front nine.
"I double-bogeyed the first hole and was 3-over par after five holes. I got it together on the sixth hole," Graham said. "The story of my day was struggling to stay at par.
"This is my home course and every time I play here in a tournament, I expect to do well. I was happy to finish my round with a birdie on 18."
Keffler shot 39 on the front nine. Jenna Jacobson finished second with 88, followed by Marlie McConnell who carded a 90 to finish third overall among 17-and-under girls.
"I was a little here and a little there the entire round," Keffler said. "I was inconsistent and started to lose some of my steam around the 12th hole. It wasn't one of my better rounds, but I'll take it."
Jacobson, whose 42 on the front nine was second to just Keffler, will be a senior at Poland High School this fall.
"I had a lot of ups and downs and did well with my chipping within 100 yards, but putting killed me today," Jacobson said. "The greens were slow and I never really got a feel for them."
Domitrovich followed up his playoff win last year at Mill Creek with a four-shot win over McDonald schoolmate Michael Porter, whose 88 was good enough for runner-up among 14-and-under boys.
Rocco Turner of Tippecanoe Country Club was third with 90.
"I was hitting my irons really well, the course was in great shape and the greens were playing fast," Domitrovich said. "My driving was decent so overall, I was pleased with my round."
Petrochko's 82 turned out being the best round overall of all 14-and-under players.
Leah Benson of Tam O'Shanter was the runner-up with 86 while Mill Creek's Jayne Bernard finished third with 93.
Michael Shulas, who is in his fourth year as Trumbull's golf professional, also served three years in the same capacity at Salem Hills Golf Course.
He enjoys being a part of the Greatest Golfer of the Valley.
"When I was growing up, we really didn't have anywhere to go for junior golf so this is a really big deal for them," Shulas said. "Junior golf now, even more so than 10 years ago, has exploded and this event gives area juniors a chance to interact and see how they stack up against others their age from the area."
More like this from vindy.com