Favorite tree often tied to memories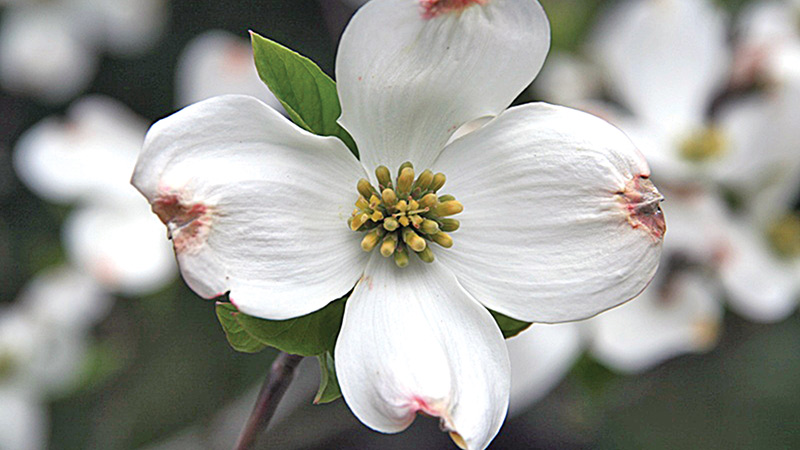 ---
By Sheila Cubick
OSU Ext. master gardener volunteer
canfield
Favorite plants and trees are often tied to childhood memories.
My favorite spring trees are native to Ohio and herald spring for me.
Growing up in southeast Ohio, the wooded hills would be dusted with the magenta tinge from the Eastern redbud (Cercis canadensis) and sharpened with the distinct white of native flowering dogwood (Cornus florida).
A deciduous tree from the bean family (Fabaceae) which includes wisteria, honey locust and black locust, redbud has attractive reddish brown-black textured bark and fruits in pods like its bean relatives.
Apart from its gorgeous delicate magenta flowers, the most distinctive and fun aspect of this tree for me is its heart-shaped leaves.
Flowering dogwoods are deciduous trees in the dogwood family (Cornaceae) which includes many species of dogwoods and is distantly related to the black tupelo tree.
I love this tree because it is beautiful all year. It has cheerful white bracts framing small greenish yellow flowers in the spring, clusters of small hard green fruits in the summer which ripen to purple in the fall, bright red leaves in the fall, and a lovely multibranching shape in winter. (Go to osu.edu/Mahoning/trees for information on planting and growing these trees.)
Both trees have special memories for me of my childhood home.
A redbud planted between the street and sidewalk at my home was the first tree I played around. I loved to pick up, then throw the fallen flowers from the sidewalk and make it "rain."
It was old and had a large trunk, which was unusual for the redbuds planted along my street, part of a beautification project many years before I was born. A few scraggly trees survived, but none were as large or as healthy as mine or had as many blooms.
We also had a pink dogwood in the side yard we gave to my mom one year for Mother's Day. Although I loved the pink color of the bracts, it didn't grow as well or have as nice a shape as the white ones.
This domesticated tree gave me an appreciation for its wild relatives, which I've admired ever since.
Fortunately for me since moving North, I have been able to enjoy the white flowering dogwood trees both in the woods and in my yard.
I have missed the stunning display of the redbuds, however, which are not as abundant here in the northern part of the state.
Luckily, the Secrest Arboretum located at the Ohio Agricultural Research and Development Center (OARDC) in Wooster has a lovely collection of redbuds which I recently enjoyed. One was a weeping variety that was small and elegant. It would make a lovely gift. For me. For next Mother's Day, perhaps.
Even though spring trees have bloomed, now is still a good time to plant one in your yard.
Choose your favorite spring flowering tree at http://go.osu.edu/springtrees.
More like this from vindy.com