Local veterans talk about what the flag means to them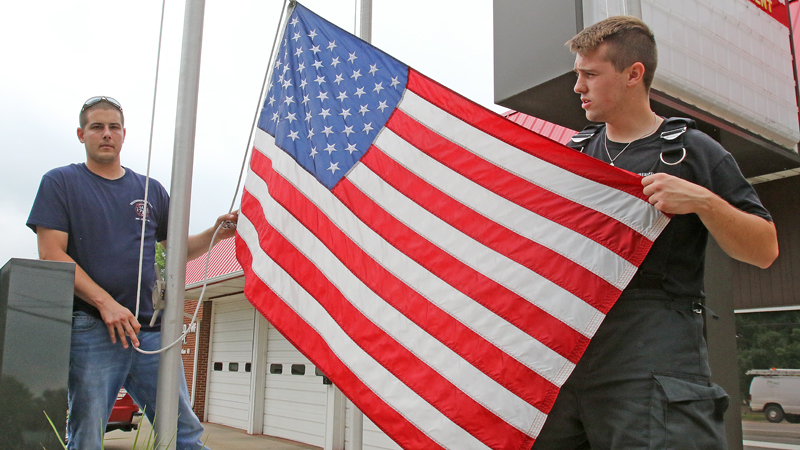 ---
By WILLIAM K. ALCORN
alcorn@vindy.com
YOUNGSTOWN
Thursday is Flag Day, a day set aside in the United States when its citizens pay special tribute to the nation's most visible symbol.
Wars and decades come and go, but the flag is what has and continues to inspire school children and military men and women, local veterans said.
But honoring the United States' flag isn't just about men removing their hats and facing "Old Glory" when the "National Anthem" is played at athletic and other events.
At its core, honoring the flag is a display of respect for the estimated 1.2 million men and women who have given their lives in all of this nation's wars beginning with those on America's soil, the Revolutionary and Civil wars, and continuing today in the Middle East.
"It's for those who served and died for this great nation," said retired Army Lt. Col. Roderick Hosler of Boardman.
Hosler, commander of American Legion Post 15 in Poland, served 25 years on active duty and eight years in the Army Reserve. His last position was as a professor of military science at Youngstown State University and head of YSU's Army Reserve Officer Training Department.
Hosler and another career military veteran, Jan Brown, interviewed separately, talked from the heart about what the U.S. flag means to them and many other veterans.
"We ought to pay more attention to Flag Day," said Brown, who served in the Air Force for 27 years, 20 on active duty and seven in the Army Reserve and is commander of AMVETS Post 44 in Struthers.
"We take such pride in our flag and what it stands for. It is a sacred symbol of the United States," said Hosler, who is active in veterans affairs as commander of American Legion Post 15 in Poland and as a member of the Reserve Officers Association.
"I believe in the meaning of the flag, but I don't believe it is taught in school as much as in the past and there are not as many boy and girl scouts and organizations that honor the Flag." he said.
As a consequence, many young people don't learn flag etiquette, which requires that it is hoisted briskly at sunrise and should not touch the ground when it comes down at the end of the day, Hosler said.
"In the United States, we fold our flag in a triangle which represents the tri-cornered hats worn by Continental soldiers in the Revolutionary War," he said.
Brown, who said everybody should respect the U.S. flag, was angered and disappointed when the National Football League rejected an item the AMVETS submitted for the Super Bowl program — saying it was too political.
All the ad said was "We stand with the Flag" and it showed a U.S. flag hanging on a pole with the words "Please Stand."
"I think the American Flag is everybody's flag and everybody should have respect for it. There is a better way of getting your point across than disrespecting the flag and the National Anthem," Brown said.
"It's a beautiful symbol of our freedom and our country and the people who protect it," said Brown who has served on the Mahoning County Veterans Service Commission for more than 16 years.
"I kind of wish Flag Day was during the school year so kids would get more education on it," she said.
"It's important we keep pushing it. Northeast Ohio is probably one of the prominent places the flag files in the nation," Brown said.
The flag is a symbol of our nation: the most visible presence of the United States. "I feel citizens of the country should honor the flag and learn what it's all about," Hosler said.
More like this from vindy.com